Delivery time: 8 weeks, no express possible
Delivery time: 8 weeks, no express possible
Please choose your preferred options so that we can give you more details about your charging station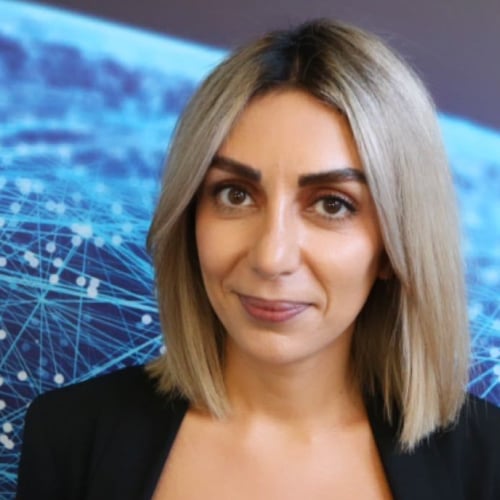 There for you:
our expert Samira and her team will advise you free of charge.
+49 89 4161 430 70
Recommended by our product management
Go from snail's pace to lightning speed with the KEYWATT DC wallbox and put a smile back on your customer's face.
Would you like to stand out from the competition by allowing your customer to charge their electric car while they're shopping or stopping by for a coffee break? Using the direct-current charging station, electric cars charge up faster than using normal alternating-current charging devices. It charges your customers' electric cars within the shortest timespan, giving them yet another reason to become part of your regular clientele.
Faster charging
The KEYWATT DC wallbox now allows you to charge even slow-charging cars like the e-Golf, the NISSAN LEAF or the BMW i3 10 times faster than with a standard domestic socket.
CCS or CHAdeMO?
You have the choice between CCS (Combined Charging Systems), The European fast-charging system, as installed in type 2 electric cars, or CHAdeMO, the Japanese fast-charging system, which is typically used in type 1 electric cars. You want both? Then we can order the KEYWATT DC wallbox for you on request.
OCPP for communication with a backend
Data is exchanged between the KEYWATT wallbox and the backend using a mobile data connection. You will usually receive the SIM card from your backend provider. In addition, in order to ensure seamless operation, there is a second SIM card integrated in the KEYWATT wallbox by IES Synergy. So if a fault occurs, IES Synergy can connect to your DC wallbox remotely to resolve the issue immediately wherever possible. Please check in advance if there is a mobile data connection available where you want to install the device.
Customisable front cover and display
You have the option to make design changes to the front cover of your KEYWATT wallbox, install your charging station in the colour of your choice and/or display your company logo on it (prices on request). When you order less than five KEYWATT wallboxes, we recommend to apply your own design using foil. Don't need a customised appearance? Then simply modify your display free of charge by adding your logo to it.
RFID access restriction
The RFID access restriction ensures that only electric car drivers you have authorized can charge at the wallbox. They connect their electric car authorize themselves using the RFID card and then the car starts charging.
Robust design
The metal housing of the KEYWATT DC wallbox is extremely robust and is optimally equipped for outdoor use in accordance with protection classes IP54 and IK10.
Installation and initial start-up
Install the KEYWATT DC wallbox, preferably in pairs, on a wall. The maximum electrical current can be adjusted individually on site using the upstream installation and safety fusing system. Installation, assembly and maintenance work should only be carried out by a qualified electrician who is familiar with the relevant standards and installation regulations and has taken full responsibility for the installation.
be.ENERGISED Monitoring
In addition to overall consumption, the be.ENERGISED web app lets you see exactly when and for how long someone has used the charging station and how much power has been consumed. This lets you precisely analyse the charging behaviour of your users and use this analysis to make decisions about future actions. For each charging station, you can decide whether you want to make it available to all drivers of electric cars or only your company's fleet.
Quality product from France
IES Synergy operates all over the world and has been developing fast charging devices for the automotive sector and industry, both within and outside the field of electric mobility, for more than 25 years. By choosing the KEYWATT DC wallbox, you will be taking home an extremely high-quality, tried-and-tested product.
Delivery includes:
Charging station
Charging cable with CCS or CHAdeMO connection
Cable holder
Instructions
Any further questions?
Our Knowledge centre can tell you everything you need to know about charging your electric car. For example, you can visit the centre for advice on what to look out for when buying and installing a charging station.
More Information

| | |
| --- | --- |
| Cable length | - |