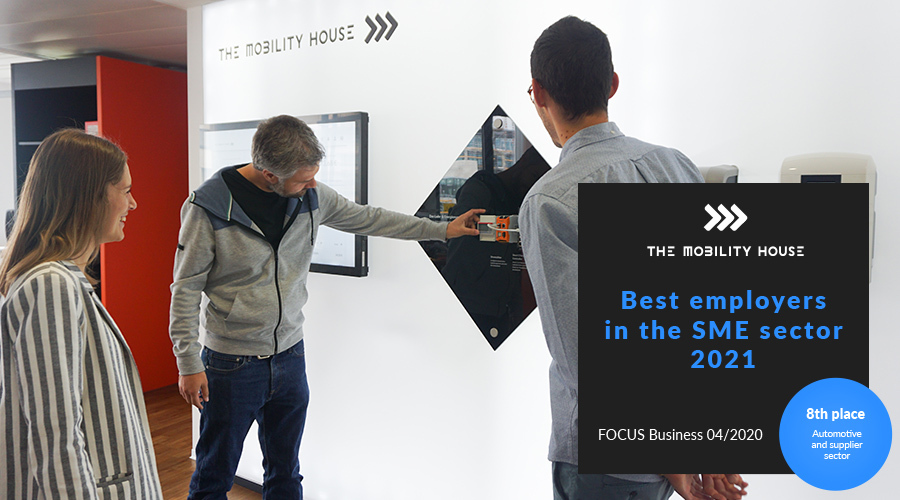 Munich/ Zurich, 22 December 2020
Focus Business ranks The Mobility House among the top ten best employers in the SME sector 2021
Satisfied employees are the key to a company's success. After all, what good does it do to have a great annual balance sheet if the team atmosphere is not right? Ever since The Mobility House was founded in 2009, employees have been the top priority for its founder Thomas Raffeiner. And that effort has paid off once again: In the major FOCUS business ranking, The Mobility House was placed eighth among the best employers in the SME sector in 2021 (automotive and supplier sector).
More than 950,000 companies and more than four million employee ratings on the Internet platform Kununu were analyzed as a basis for the survey. Ultimately, the 4,000 companies with which employees in Germany were particularly satisfied were awarded the prize. The size of the company, employee ratings on Kununu, as well as the number of ratings and rate of recommendations were all taken into account.
Compared to the previous year, The Mobility House, which now has over 140 employees from 20 different nations, was able to improve its ranking by a solid 30 places. In 2019, the technology company reached 38th place among the best employers in the SME sector in the same category .
"A good idea can only be turned into reality if there is a great team behind it. I am proud and incredibly grateful for the commitment of all employees and am pleased that our team spirit is lived and nurtured by each and every one of them," explains Thomas Raffeiner, CEO and founder of The Mobility House.
The technology company The Mobility House was founded in 2009 and operates from locations in Munich, Zurich and Belmont (California). Since then, the company has become a sought-after partner of automotive manufacturers, energy companies, fleet operators, small and medium-sized enterprises, and private individuals, and is considered a leading expert in smart charging and energy solutions.

Interested? All information about career opportunities at The Mobility House can be found here.