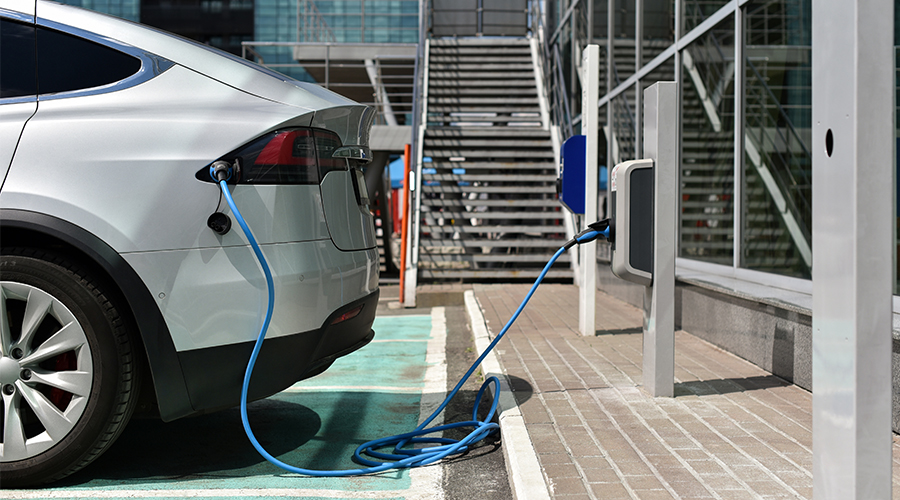 The basic hardware and software requirements for calibration laws have already been presented in detail in the introduction to the series. For existing stations that don't yet have the necessary measurement systems, the operator must submit a specific, customised retrofitting plan to the responsible national calibration authority.
However, there are also charging stations that are not subject to the calibration requirements, for example when the electricity is given away for free at the station or is charged according to a flat rate. There are more exceptions and pitfalls in the multitude of different charging scenarios, which we will go into in depth in this multi-part series. In the second part of our series, apartment owners, homeowner associations and real estate companies will learn when they need to provide legally compliant invoicing for charging station.
Community parking spaces in a homeowners association
Electricity for charging in community parking spaces in a homeowners association must be invoiced in compliance with calibration law, because the charging stations can be used by different users. In addition, "when these are consumers, which can normally be assumed, the regulations of the Price Indication Ordinance apply," explains attorney Dr. Katharina Vera Boesche, head of the Legal group "IKT für Elektromobilität" (IKT for Electric Mobility), a research and technology programme funded by the German Federal Ministry for Economic Affairs and Energy (BMWi).
Individual charging station connected to the apartment meter
Someone who has their own parking space with a wallbox that is connected to their own apartment electricity meter does not need to retrofit the charging station. "In this case, charging goes through the household electricity meter, which is also a calibrated smart meter. As I understand it, there is no further invoicing," says Boesche.
Individual charging station connected to the shared electrical connection
If however the wallbox in someone's personal parking space is connected to the shared electrical connection or a shared smart meter from a power supply company for all charging stations, it is sufficient to retrofit it with an MID-certified smart meter (MID = Measuring Instruments Directive). Then it would be possible to apportion the costs to individual users in the annual financial statement, similar to an invoice for shared utility costs. However, each charging station will need to be clearly assigned to an individual user. This can be ensured using user authentication in the wallbox itself with a key or RFID chip, for example. "If a wallbox is used by several parties however, it needs verifiable, traceable measurement results that you can only get with charging systems that have been assessed for compliance," explains Boesche. The same regulations used for community parking spaces would then apply.
If the owner of the building and the landlord of the apartment is also the operator of the charging facilities and the renters are consumers, which is usually the case, the relaxed requirements of the German Weights and Measures Act apply. According to Boesche, if both contracting parties are on site and both acknowledge the measurement results at the end of the charging process then the prerequisites for direct sales may be fulfilled. In the case of direct sales, a compliance-assessed measurement system is not necessary; an MID-certified smart meter would be sufficient. An appropriate fee would then be paid for each kilowatt hour of electricity consumed.
In Part 1 of our series, we dealt with the topic of charging company cars at work and at home as well as charging stations on company premises. In Part 3 of our series, we give hotel operators and providers of holiday apartments and condominiums tips on how they can bill their guests for charging their electric cars in a legally compliant way.
Subscribe to our newsletter, and you won't miss any of our articles on legally compliant charging. You will also stay up to date on new products and promotions, as well as learn about tips and trends from the world of energy and electric cars.