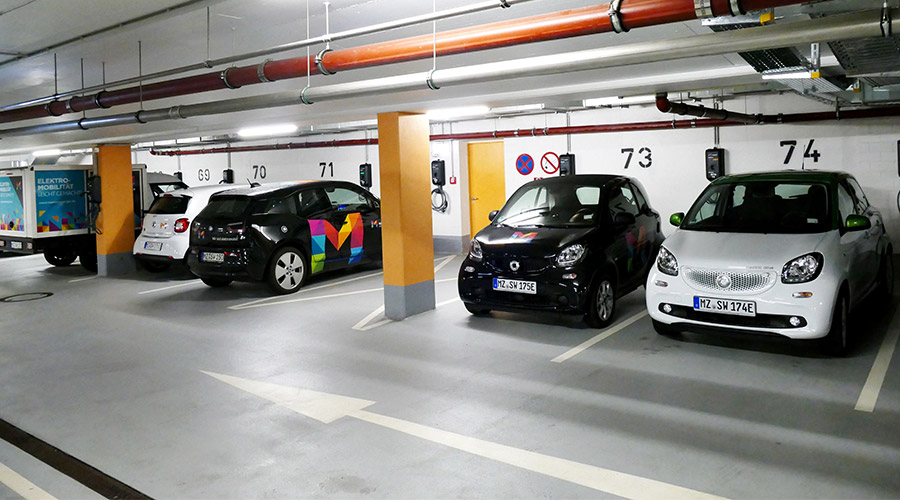 MAINZ, 01/22/2019 –
The Mobility House and Mainzer Stadtwerke Vertrieb und Service GmbH together develop individual charging solutions for their clients.
Electric mobility has gained considerable momentum in the ongoing discussions regarding diesel engines. The collaboration between Mainzer Stadtwerke Vertrieb und Service GmbH (MSVS) and The Mobility House (TMH) aims to further advance electric mobility on a practical level in Mainz, Groß-Gerau and the surrounding area. The objective is to offer charging infrastructures to private individuals and businesses as well as large-scale projects (e.g. car parks, vehicle fleets) in the form of "comprehensive no-hassle packages". In this context, Mainzer Stadtwerke acts as a local contact and advises customers regarding specific charging solutions. Thanks to its subsidy programme and affordable charging rates, Mainzer Stadtwerke is able to provide customers with additional benefits and offers.
The Mobility House supports Mainzer Stadtwerke with its many years of experience, gained from a variety of projects in the commercial, real estate and fleet sectors. In addition to the broad range of information and products offered by TMH, Mainzer Stadtwerke is interested in the company's manufacturer-independent charging and energy management system, which is both modular and scalable. Smart charging will facilitate better use of existing energy reserves at particular times of day, for example.
Mainzer Stadtwerke is currently engaged in the first large-scale collaborative project of this kind as it continues to electrify its vehicle fleet. Essentially, TMH also assists energy providers in controlling charging stations as an interruptible load in order to prevent peak loads. "In collaboration with Mainzer Stadtwerke, we implement our technology to enable electric mobility, prevent network expansion and only charge using renewable energy sources", explains Marcus Fendt, Managing Director of The Mobility House.
"Our partnership with TMH will allow us to take a pragmatic, flexible work approach on our journey towards an e-mobile future. Customers are our focus, and working with TMH allows us to implement custom solutions", adds Dr Sandra Schmidt, Managing Director of Mainzer Stadtwerke Vertrieb und Service GmbH.