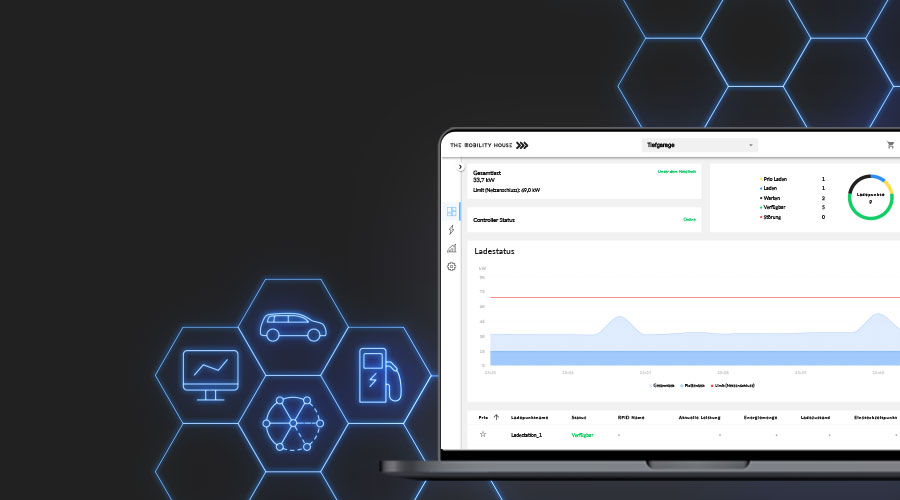 Munich, September 9th 2019 –
The baby has a name! After 15 successful months on the market and more than 1,000 customers and prospective customers, The Mobility House's charging and energy management system will be known simply as "ChargePilot" as of 9 September 2019. The new name is a perfect description of the system's purpose: to detect the building's current energy load in real time and ensure that all connected electric cars are charged at the optimal power level during any given period. ChargePilot is compatible with most charging station and automobile brands and can be combined with other CPO, MSP, grid and building systems thanks to its open interfaces. ChargePilot is scalable and can control charging parks of varying sizes — from small company car parks with five charging stations to corporate and logistics fleets with dozens of electric vehicles and depots for large electric bus fleets.
A few changes will come with the introduction of the new name: the number of connected charging station partners will increase and the monitoring system will be expanded to include many new functions such as statistics and remote start-up. Additionally, an OCPP broker will create interfaces to established systems such as for example be.ENERGISED, Ladenetz and chargecloud. Aside from that, ChargePilot will continue to reliably manage everything related to smart charging for electric vehicles. The dynamic load management module, for example, prevents expensive peak loads by accounting for the building's energy load, and even keeps down costs when installing the charging infrastructure. It can be a good investment for fleets where at least three to five cars are to be charged on the same electrical connection. By avoiding peak loads, customers such as the public utility company Stadtwerke Mainz have the potential to save up to €50,000 a year operating their charging infrastructure. The Rosier car dealership group is saving €20,000 per year at each location.
The partnerships with and interfaces to many car manufacturers allows ChargePilot to coordinate its charging processes with driving schedules and battery levels (SoC). For electric bus fleets like the Rhein-Neckar-Verkehr GmbH (rnv), individual vehicles that have to be ready for operation before others can be given charging priority and automatically pre-conditioned. ChargePilot is optimised to allow the rnv to get the energy it needs to power its electric buses at the lowest possible cost.
ChargePilot's automatic accounting and invoicing system fulfils a wide variety of customer needs: alongside interfaces to third-party and bookkeeping systems, it also offers features such as separate invoicing for a company's employees and customers. This does not create any additional work for the charging station owner.
The system also meets the requirements of distribution network operators, such as the technical connection requirements (TAR - TAB for Switzerland), and can integrate and manage solar power systems or stationary energy storages. This means that customers of The Mobility House who have already installed ChargePilot are in possession of a future-oriented product that is prepared to handle the technologies of the future, such as vehicle-to-home (V2H) and vehicle-to-grid (V2G).
Our ChargePilot is already reducing the cost of grid connection and operation at present; in future, it will encourage the 'Energiewende' (energy revolution), contribute to CO2 reduction, and reduce the overall cost of electric mobility with smart charging and the integration of renewable energy, says Thomas Raffeiner, founder and CEO of The Mobility House.