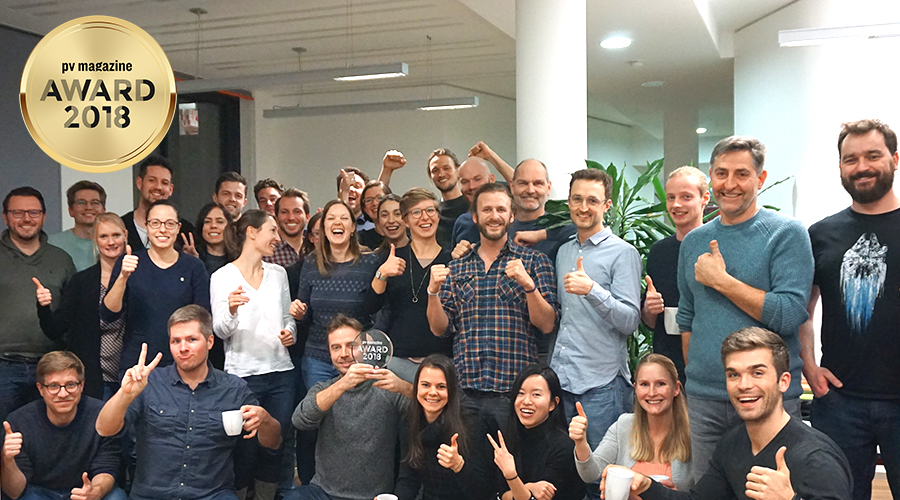 ABU DHABI, UNITED ARAB EMIRATES, 16 January 2019 -
The German technology company The Mobility House (TMH) has been honoured with the PV Magazine Annual Award 2018.
The prestigious award is proof that the company's vision has become reality. The company was founded in 2009 with the mission of integrating electric vehicles into the power grid by way of intelligent charging, power and storage solutions in an effort to increase the overall share of renewable energy consumption. Over the years, TMH and its partners have demonstrated in numerous successful projects that the energy and automotive sectors are moving ever closer together to pave the way for innovative and sustainable business models in the future.
The Mobility House is receiving the PV Magazine Annual Award for two outstanding projects. One of these is the multiple award-winning energy storage system at the Johan Cruijff ArenA in Amsterdam, which is the result of a collaboration between Eaton, Nissan, BAM, The Mobility House and the Johan Cruijff ArenA. The other, the Vehicle-to-Grid (V2G) milestone project completed in October 2018. Here, the project partners did groundbreaking work by pre-qualifying a Nissan Leaf as an energy backstop in Germany's power grid in full compliance with regulatory requirements of the European Transmission System Operators (ETSO). Both projects are controlled by TMH's intelligent charging and energy management software.
"Our vision of an emissions-free energy and mobility world is becoming reality. We are incredibly proud and grateful for receiving the PV Magazine Annual Award today, which recognises the years of incredible work our team has done in developing the underlying technology", explains Thomas Raffeiner, founder and CEO of The Mobility House. "In line with the growing interest in electric mobility, our customers will now not only be able to charge their vehicles with renewable energy – their electric cars will now also earn them money via the intelligent control system. This award is further proof and confirmation that our projects are recognised as milestones on our way towards the long-term goal of an emissions-free energy and mobility world", explains Raffeiner.
"The constantly growing number of electric vehicles opens up a whole host of new opportunities", says Fabrice Roudet, Head of the Business Unit Energy Storage, Electrical EMEA at Eaton. "The highly successful project at the Johan Cruijff ArenA clearly demonstrates how electric vehicles can be integrated efficiently into an energy storage system."
The award ceremony is part of the Middle East Solar Industry Associations' Solar Awards at the World Future Energy Summits in Abu Dhabi.