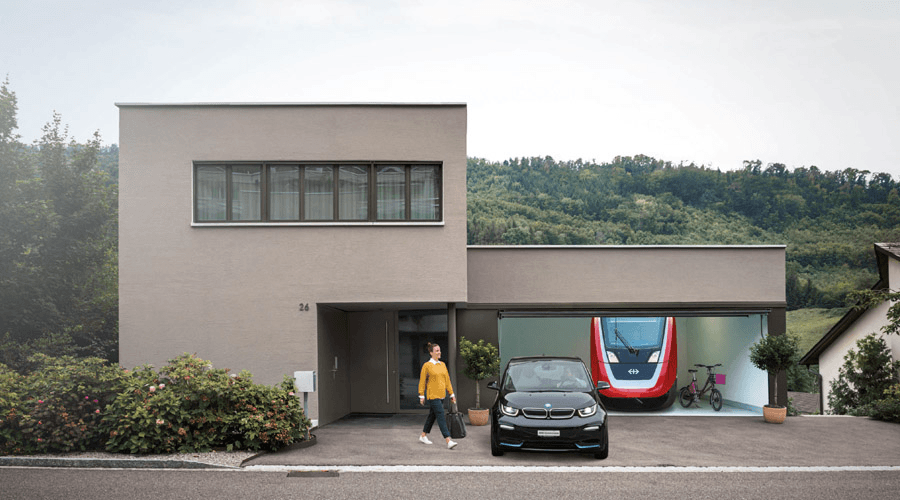 Zurich, October 21st 2019 –
SBB Green Class customers now have even more opportunities to enjoy individual and sustainable mobility. The attractive mobility package, which consists of a fixed public transport component and an exclusively available electric car, can now be personalised a new online configurator. In addition to the 1st or 2nd class general subscription travelcard, the public transport section now also offers a Half Fare travelcard or an individual public transport travelcard (route, group or module travelcard).
SBB Green Class customers who would like to set up a charging facility for their electric car at home – currently available are BMW i3, Nissan Leaf, Tesla Model S and Tesla Model 3 – can rely on the expertise of SBB partner The Mobility House for consultation, installation checks and installation. 'It is important for drivers of electric vehicles to be able to charge safely, quickly and conveniently. Competent consultation and tailor-made charging solutions are highly valued by customers,' says Christian Müller, General Manager Switzerland at The Mobility House AG.
If you are interested in a home charging solution and select this option when ordering your SBB Green Class Mobility subscription, you will receive a voucher worth CHF 50 that can be redeemed at The Mobility House when you purchase a charging station.
With its wide range of products and services for electric cars, The Mobility House, pioneer and market leader in the field of charging and energy management solutions in Switzerland, offers SBB Green Class customers an individually tailored and future-proof overall solution for charging at home.