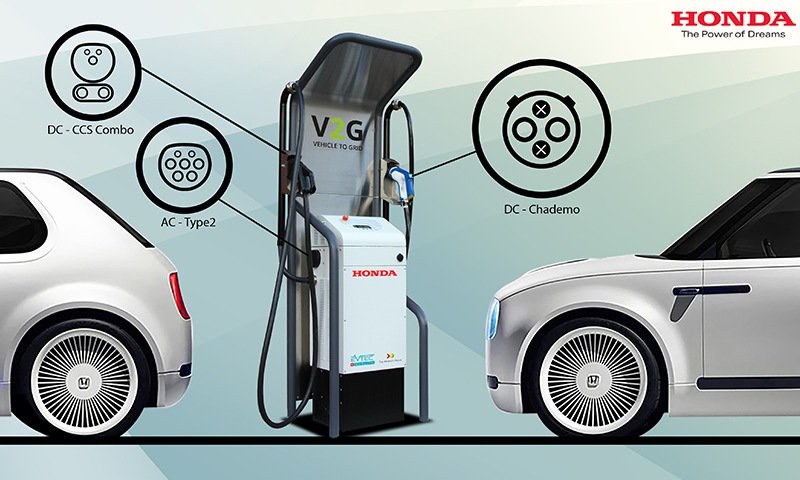 Energy can be drawn from and returned to the grid with Vehicle-to-Grid technology (V2G)
New technology is another step towards a zero-emission society
Project is collaboration between Honda, EVTEC and The Mobility House
Installation tests the integration of electric vehicle batteries and renewable energy sources
Honda has realized an innovative bi-directional charging solution at its European R&D site in Offenbach, Germany. The system is helping to balance demand and store energy more efficiently across the facility. After a successful test phase the solution will in future also be provided to owners of Honda vehicles.
The innovative technology installation completes the Power Manager Concept introduced by Honda at the 2017 Frankfurt Motor Show. The system is a fully-integrated energy transfer concept, which draws power from the grid or photovoltaic panels in order to store it in the batteries of electric vehicles. At times of short or surplus supply the stored energy can be transferred back to help stabilize the grid – through "Vehicle-to-Grid" or "V2G" technology.
Jörg Böttcher, Vice President of Honda R&D Europe, said: "With the installation of the latest bi-directional charging technology at our R&D site in Germany, we are adding the next technology to our Smart Company project, which will further enhance our research activity in the field of zero-emission society and future mobility."
With the help of The Mobility House's expertise and technology, Honda aims to optimize energy management at its European R&D campus, maximizing the use of renewable solar power in particular. Thomas Raffeiner, CEO and founder of The Mobility House said: "We see electric vehicles as batteries on wheels whose storage capacities will help us offset the fluctuating availability of renewable energy. Electric vehicles will provide stability to the power grid and thereby make a valuable contribution to the energy transition towards renewables."
The project is testing the interaction, compatibility and power flow between specific electrical components, including the batteries of electric vehicles. The installation represents a collaboration between Honda R&D Europe, energy service provider The Mobility House and Swiss manufacturer of charging infrastructure EVTEC.