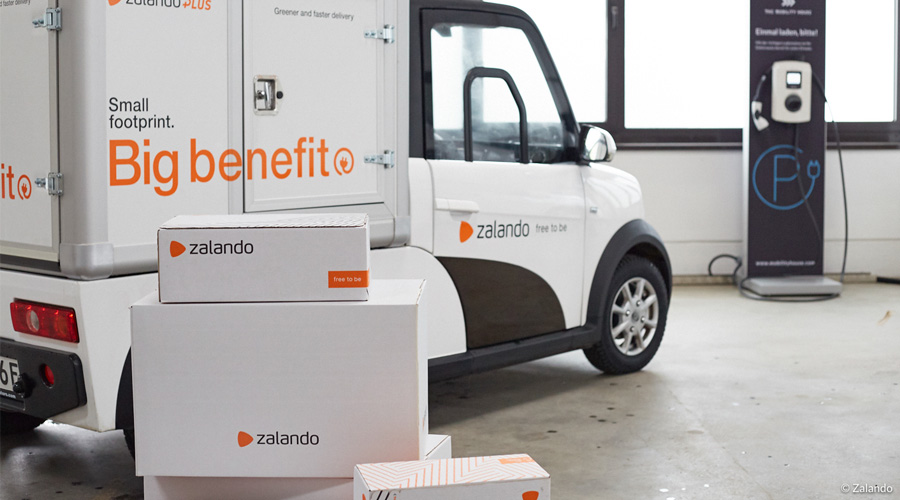 Munich, November 8th, 2019
Online fashion retailer Zalando has added electric vehicles powered by green electricity to their delivery fleet in Hamburg. To keep the 23 vehicles running despite the limited grid connection, Munich-based technology company The Mobility House has installed ten charging stations in a local sorting site. They are connected using ChargePilot, The Mobility House's intelligent charging and energy management system.
"We are constantly working on developing sustainable solutions for logistics," says Christian Scheffler, Director of Zalando Premium Logistics. "The Mobility House is the ideal cooperation partner for this project. By using ChargePilot, we can ensure that the electric vehicles are always ready for operation." The power supply is automatically regulated according to each vehicle's departure time and the available grid connection capacity. Since the vehicles have different delivery schedules, they are charged at varying times overnight using a reduced power supply. This avoids expensive peak loads and provides the entire fleet of vehicles with sufficient range at all times. The charging costs can be reduced by up to 30-70%, depending on the size of the fleet. The ChargePilot web portal also provides the fleet manager with a detailed overview of the charging status and progress of each individual vehicle.
"We are very pleased with this pilot project," says Daniel Heydenreich, Managing Director of The Mobility House. "The logistics industry is predestined for the use of electric cars and intelligent charging systems. Since the routes and downtimes of the vehicles can be planned, the charging processes can also be selectively controlled. Our intelligent charging infrastructure ensures that Zalando can get the most out of the existing power line for charging its vehicles."
ChargePilot by The Mobility House complies with the new German technical connection directive and is compatible with various charging stations and all electric vehicle models. New charging stations can easily be worked into the existing charging infrastructure in a mobile or stationary setting.