However, with many vehicles at one location, fleet and facility managers often wonder how they can supply all the electric vehicles with sufficient energy without overloading the power connection or having to carry out costly and time-consuming upgrades. Not to mention the monthly fees they have to pay according to the highest peak in a year. The solution to this problem has already proven itself to be efficient at more than 100 companies. Developed by The Mobility House, the vendor-neutral Charging and Energy Management system ChargePilot® minimizes the connected load required and saves costs thanks to the smart control of charging processes. The following graphic illustrates these savings.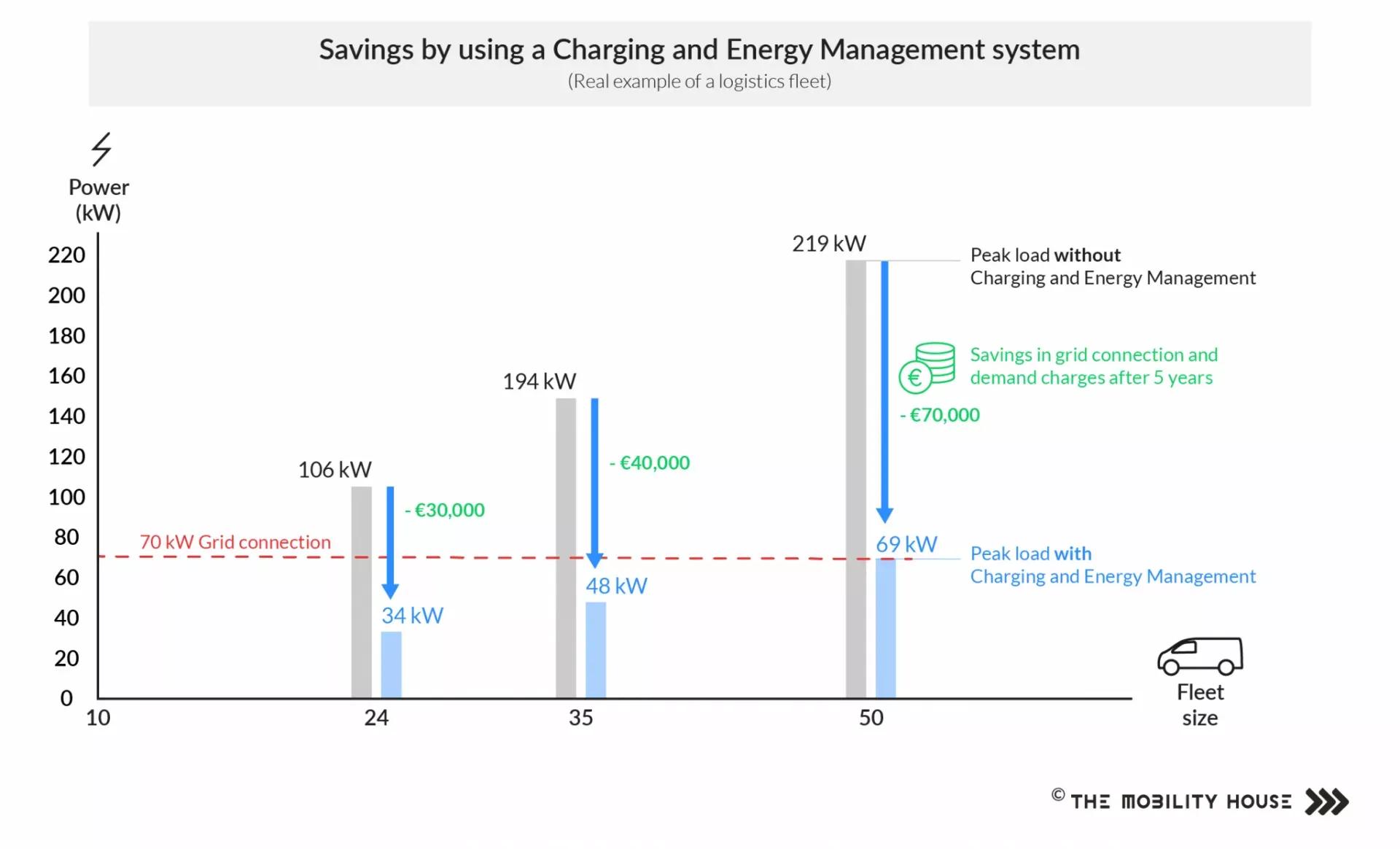 ChargePilot® detects the building's current load in real time and ensures that all connected electric vehicles are charged at the optimal power level depending on the specific phase. Individual charging stations can also be prioritized – on the basis of departure times, for example. The system can be combined with other systems using a standardized interface regardless of the manufacturer of the charging station or vehicle. ChargePilot® also grows with the customers' needs: The scalable system enables the integration of additional charging stations and service providers at any time to issue billing if needed, thus providing tailored support for fleets of all sizes and varying requirements.
Smart charging management now also integrated in Mercedes PRO connect
For Mercedes-Benz Vans customers, The Mobility House's smart Charging and Energy Management system is a directly integrated service in Mercedes PRO connect. In the vehicle management tool, fleet managers receive a constant overview of every important information such as battery charge level, pre-climatization, range and charging status for their Mercedes-Benz Vans electric vehicles such as the eVito. They can coordinate the charging processes of the intelligently networked charging infrastructure with the departure times of the individual electric vehicles and pre-climatize the vehicles according to seasonal conditions – a clear gain in range and comfort for the drivers.