Vehicle-to-Grid
With Vehicle-to-grid (V2G) technology, we are stabilizing the power grid and shaping the future of energy management.
Just imagine: Your electric car could be part of a revolution...
… a clean energy revolution. There is no doubt that crude oil, natural gas and coal are powerful energy providers. Today, they cover the majority of global energy needs. However, even though it took these fossil fuels up to several hundred million years to form, we have considerably exploited their deposits within only the last 150 years. In the process, emissions of greenhouse gases have caused the planet's climate to change in an unnatural manner. Considering the fact that the world energy consumption is increasing, it is clear that we have to change how we generate and use energy. This includes electric mobility as well as the switch to renewable energy. The challenge is that the availability of wind and solar energy is still too dependent on weather conditions. This would be different if energy from renewable sources could be temporarily stored in the short and long term.
This is where your electric car comes into play. On average, an electric car just stands around for 23 hours of the day. This time could be better-used if the car were to step in as temporary stationary storage. What if the energy stored in your vehicle battery could be returned to the power grid at times of increased energy demand? What if this did not result in any disadvantage for you, and in fact meant lower procurement and maintenance costs for your electric car? And there is more: what if you could supply your home entirely with your own solar power? This is the vision behind the high-tech Vehicle-to-Grid (V2G) and Vehicle-to-Home (V2H) solutions; a vision which we at The Mobility House strive towards implementing, each and every day, with a great deal of commitment and passion.
How does V2G work?
The integration of the electric car as energy storage work in the smart home? Our vision explained in a video
Electricity generation and usage
Wind turbines that remain motionless for days on end are unfortunately a common sight these days. This is not, as you might think, due to a lack of wind. Quite the opposite: wind turbines have to be turned off if they produce more energy than the power grid can accommodate. One field of application for V2G technology is in the collection of excess generated power. Storage capacity is growing along with the number of electric cars included in the Vehicle-to-Grid "swarm", which enables renewable energy to be put to better use.
Your electric car creates connections
If energy supply exceeds demand, electricity prices fall. Then, energy from the sun, wind and water can be stored in your electric car battery at low cost, while your car charges at the charging station. If demand increases or supply decreases, this energy can be fed back into the power grid in return for a profit. In future, you will determine for how long your car is available as storage, and the point from which you need your car to be ready for use with a full battery, e.g. before a long journey.
Energy control in the smart home
Has it ever annoyed you that you feed your own solar power into the grid and receive little compensation, but then have to buy it back at a high price? Would it not be better to temporarily store the electricity for later use? Ultimately, battery capacities in modern electric cars are sufficient to supply one household with power for several days – and that is precisely the objective behind Vehicle-to-Home (V2H). For anyone who seeks a solution to charge their electric car with own-produced solar power already today, the smartfox energy manager can help.
"Electric mobility provides new opportunities for the energy transition. At The Mobility House, we are seizing these opportunities. Smart charging is just the beginning. Our vehicle-to-grid technology and stationary storage systems are set to revolutionize the world of energy, helping turn our vision of an emission-free future into a reality."
Thomas Raffeiner
Founder and CEO, The Mobility House
The Mobility House is driving V2G technology forward
Our Vehicle-to-grid roadmap
2014
In initial tests, we succeed to charge several electric cars with different charging statuses on a time-controlled basis, and in such a way that the process is optimised for fleets. In coordinating charging processes and energy prices, we develop a cost-optimised charging model, and create the basis for communication between the vehicle and the power grid.
2015
Smart charging in practice: A fleet of 10 Renault Zoes is successfully charged on a time-controlled basis, and in response to price fluctuations on the energy market. This enables the optimisation of costs for power used, to the benefit of the car owner.
2016
With the Vehicle-to-Coffee example application, we make use of the bidirectional charging function of our electric vehicles (Nissan Leaf and e-NV200). We integrate the electric cars into our office's power consumption at our site, the smarthouse in Munich, by means of bidirectional fast charging stations. With this simulation of power supply capacity, we realise the seminal potential of the electric car as energy storage.
2017
By intelligently controlling charging processes in fleets of electric commercial vehicles, we reduce operating costs whilst increasing fleet efficiency. In parallel to this, we are integrating fleets of electric cars into the control power of various European countries.
2018
Important milestone regarding the integration of electric vehicles into the electricity grid: For the first time, a Nissan LEAF electric car is officially being prequalified like a power plant for the German energy market in a vehicle-to-grid (V2G) scenario according to all regulatory requirements of the transmission system operator. The electric car is being approved for primary control power.
2019
As part of a pilot project on the Madeira island of Porto Santo, The Mobility House is developing the world's first software platform that optimizes the interaction between conventional electric cars, bidirectional electric vehicles (Vehicle-to-Grid, V2G) and stationary second-life battery storage devices. The long-term goal is to make the entire island fossil free.
Success stories
We have already implemented these vehicle-to-grid projects successfully
Visitors of Johan Cruijff ArenA in Amsterdam secure energy supply
Since end of the year 2019 visitors to Johan Cruijff ArenA (JCA) can actively contribute to the power supply of the arena with their electric vehicle - by intelligently integrating their car into the stadium's power grid.
The project combines a total of 15 new charging stations with the existing 3-megawatt battery storage, consisting of 148 Nissan Leaf batteries, and the 1-megawatt photovoltaic system on the roof of the arena - using the innovative Charging and Energy Management by The Mobility House.
Electric vehicles secure sustainable energy supply at Wacken Open Air
Wacken electrified! The Mobility House and GP Joule demonstrate with Vehicle-to-Metal what the festival of the future can look like. A camp on Wacken Open Air 2019 is being powered by green energy from a solar power plant. A Nissan Leaf serves as a mobile energy storage. The Mobility House supplies the technology to store electricity, that has been generated through photovoltaic systems in the vehicle and retrieve it when needed.
An island is getting fossil-free: Our V2G project on Porto Santo
An entire island fossil free: This is the goal of a joint project from The Mobility House, Groupe Renault and the electric utility EEM, Empresa de Electricidade da Madeira, S.A. Together, they want to transform the island of Porto Santo in Madeira Archipelago, Portugal, into a role model for sustainability under the title "Smart Fossil Free Island". The three project partners are working to increase the share of wind and solar power plants through the intelligent integration of electric cars and second-life battery storage systems. For this purpose, The Mobility House has developed an intelligent software, the so called "Marketplace", which optimizes the interplay of electric cars, stationary second-life battery storage and bidirectional electric vehicles (Vehicle-to-Grid, V2G).
Other vehicle-to-grid projects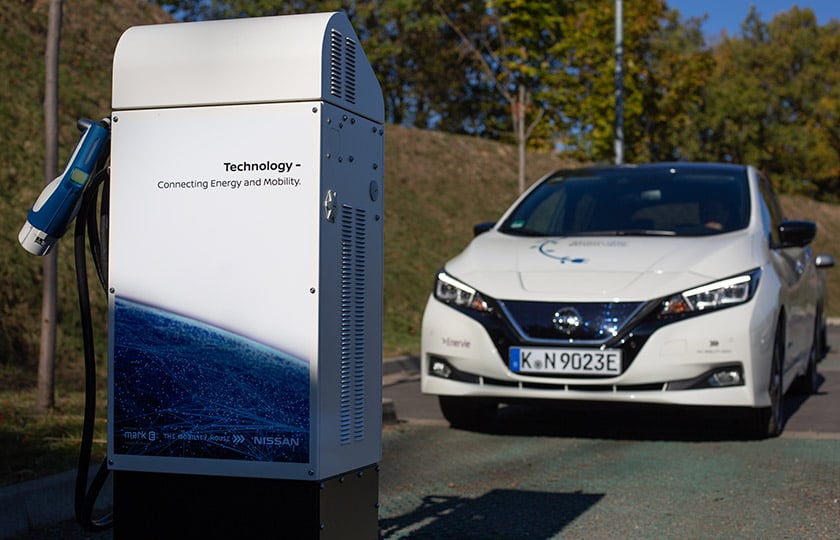 Nissan LEAF stabilizes electricity grid
The future starts in Hagen: Together with its partners Nissan, ENERVIE and Amprion has achieved a major breakthrough in the establishment of Vehicle-to-Grid (V2G) technology in Germany.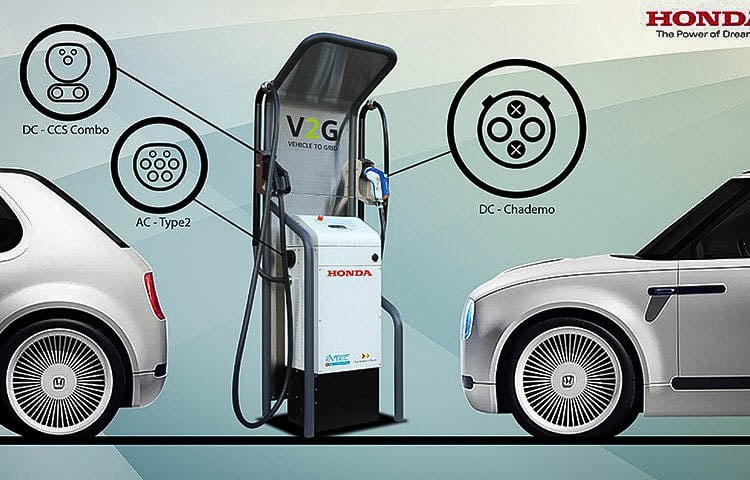 Honda R&D Europe installs new bi-directional charging technology
The Mobility House technology is helping Honda to optimize energy management at Honda R&D Europe center and maximizing the use of renewable solar power in particular.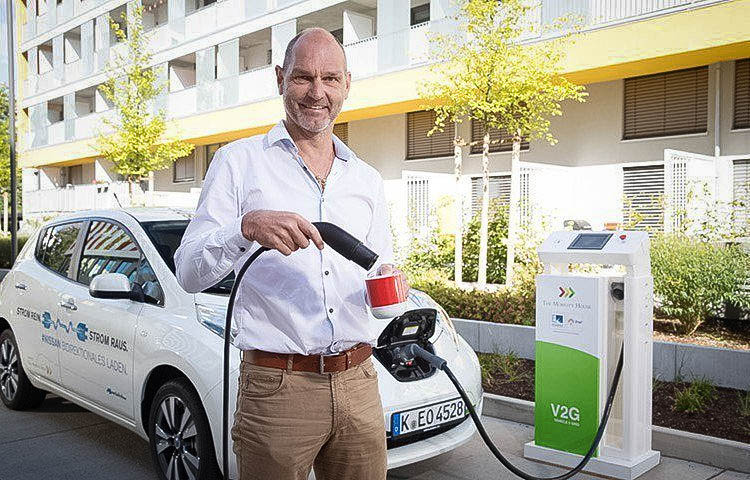 Electric car brews coffee with green energy
At The Mobility House headquarters, good espressos are now being prepared using a somewhat different method. Electricity from a car is being used! A Nissan Leaf is parked in the underground car park and supplies the entire office with energy.
The world is changing, and mobility is changing with it.
Discover V2G activities worldwide in our outline map
Frequently asked questions
Is V2G Innovation already available as a a product, and what does it cost?
There are yet no V2G products available. As you can find out above, we are currently in the midst of the development process for V2G and V2H products, and are working hard on their commercial implementation. The current focus of our activities is to optimise and establish the appropriate charging infrastructure. At the top of our agenda is further development of intelligent controls for charging processes, as we are currently testing in various pilot projects.
When will the product be available?
What kind of technical requirements are there for the use of V2G??
How can I use my electric car as energy storage for my PV system at home?
Which criteria enable V2G use of an electric car? Which cars are V2G-ready?
Can I use my own solar power to charge?
Is the DC charging station from the online shop V2G-enabled?
Will it be possible to use today's charging stations for V2G/V2H in the future?