Since the modernization of the German Condominium Act at the end of 2020, they have, however, been entitled to have charging facilities for electric vehicles installed at their residential property. Additionally, the necessary charging infrastructure must now be provided for new builds and major residential building renovations where there are more than five or ten parking spaces – as stipulated by the German Building Electromobility Infrastructure Act (GEIG) approved in 2021. Our experts therefore expect very high demand for charging infrastructure, especially in larger residential properties. This poses new challenges for both communities of owners and property managers with respect to electrotechnical implementation, among other things.
Electrotechnical implementation: apartment meters vs. shared meters
When it comes to installing charging infrastructure in apartment buildings, one question that needs answered is: Which electricity meter should be used to supply and bill the charging stations? There are two potential technical implementation options available:
The charging stations can be connected either directly to the associated parking spaces in question using the existing apartment meters
or through a central shared meter for the entire charging infrastructure with a separate billing solution.
a) The individual apartment meter
At first glance, it would appear that the individual apartment meter is the more attractive option, since users can continue using their own, existing electricity tariff. What's more, unlike with a shared meter, there's no need to bill different users and therefore contend with the associated ongoing service costs.
If only a few parking spaces in total are to be fitted with charging facilities, installation of the charging infrastructure may be more affordable with an existing apartment meter. For this to be the case, though, the apartment meter must have been designed for the additional power requirements of a connected charging station. If this isn't the case, a larger, expensive apartment meter will need to be purchased.
To connect a wallbox with an output of 11 kW, an additional small distribution board usually needs to be installed for each apartment meter. This requires individual coordination with a specialist electrical company, not to mention increased space requirements for the distribution boards. When numerous parking spaces are being electrified and a correspondingly large number of small distribution boards are required, this can lead to difficulties in what are often already cramped conditions in the utility rooms.
From about three charging points in a shared garage, intelligent control of charging processes using a charging and energy management solution is generally advisable. This will allow you to use the property's service connection with maximum efficiency and protect it against overload. Installing and controlling a load management solution like this is far more complex and therefore more expensive for individual apartment meters.
Each new, subsequently installed wallbox is associated with a great deal of effort and correspondingly high costs for individual apartment meters, since the cables have to be laid from the meter to the parking space. As a result, owners with parking spaces that are far away are financially disadvantaged in particular.
Furthermore, as soon as the power of all the installed charging points on the property exceeds 12 kVA (equivalent to about 11 kW), each additional charging station must be approved by the grid operator. This approval process is time consuming, and going through it for each individual charging facility is a must. The grid operator may also refuse permission in the event of subsequent construction, which would be detrimental to the owners in question.
b) The shared meter
Compared to the individual apartment meter, you can expect a higher initial investment when installing a shared meter. An installation task like this includes the meter cabinet and fees for setting it, for example, plus the distribution board or rail system that supplies the charging infrastructure with electricity.
An additional electricity tariff for the shared meter is also a must-have. It should be noted that the current market prices apply to new contracts.
If you assume that the number of parking spaces to be electrified will increase, the shared meter offers a decisive advantage, since after installation connecting the individual parking spaces to the basic shared system is both affordable and efficient. The gradual expansion gives users a straightforward, staggered introduction to electromobility with fair distribution of costs within the community of owners.
What's more, the electricity supplier's approval process for a shared meter is easier and usually faster given the higher performance and lower risk of overload.
A shared meter can also be very well supplemented by an intelligent charging and energy management solution, enabling optimum utilization of the mains connection at the site. If the service connection is inadequate, the community of owners shares the costs for the expansion and the resulting mains fees.
The shared meter also offers additional savings potential, like variable electricity tariffs and cost-optimized grid-friendly charging as defined by Section 14a of the German Energy Industry Act. Even if you'd like to use future technologies like V2G, choosing a shared meter is the sensible option.
Summary: apartment meter vs. shared meter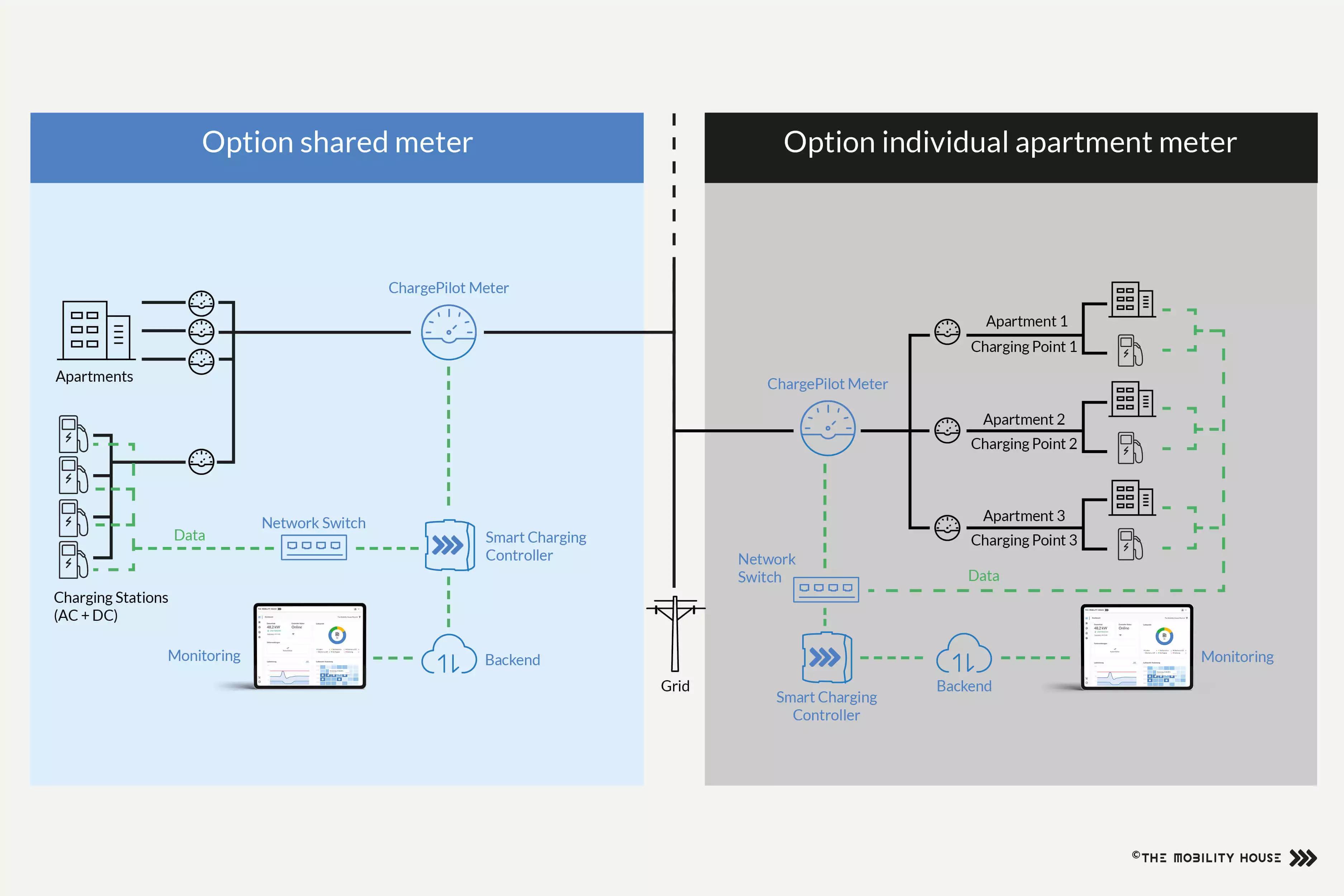 Shared meter and apartment meter at a glance
Which electricity meter is the better choice for you depends on many factors. It is advisable to consider the needs of the entire homeowners' association when making decisions.
You should act with foresight and ask yourself questions like: How many parking spaces need to be equipped with charging facilities today and in the foreseeable future? Especially in residential properties with a large number of parking spaces needing electrified, following closer examination the technical separate shared meter option usually offers more advantages. While this solution may result in you incurring higher initial costs than for an individual apartment meter, the investment pays off in the long run. Then, you are in a flexible position and optimally equipped for the future.