According to the National Centre for Charging Infrastructure and multiple surveys, a good 80 to 90 percent of all charging processes take place at home or at the workplace. However, since many people do not have their own parking space, particularly in urban environments, they lack the space to install a private charging station. Creating opportunities for charging at the workplace or in commercial properties could therefore play a key role in the success of the transition to electric transport. This is one of the reasons why more and more employers are deciding to initiate the installation themselves, even if they are only the tenant of a property.
The advantages of charging infrastructure in commercial properties
Whether it's office buildings, company premises or business parks: initial practical experience has shown that charging stations for electric cars increase the value of real estate and make it more appealing to tenants, customers, guests, and visitors. For you as a property owner or operator, electric mobility is also a chance for you to make your building fit for the future and have it certified as sustainable.
Action is also needed regarding the new legal requirements for equipping buildings with charging infrastructure. The new EU building directive 2018/844, anchored in national German law as the Building Electric Mobility Infrastructure Act (GEIG), requires new and renovated residential and commercial properties with more than ten parking spaces to provide infrastructure for electric cars: for buildings that are used commercially, at least every fifth parking space must be equipped with protective tubes for electric cables and at least one charging point must be set up. From 2025 onwards, every existing building with more than 20 parking spaces must also be equipped with at least one charging point.
New buildings
Renovations
Residential property
>5 parking spaces
>10 parking spaces
Every parking space
Commercial Property
Every third parking space and at least one more charging point
Every fifth parking space and at least one more charging point
2025 onwards: every existing building with more than 20 parking spaces & at least one more charging point
Another reason to invest in the development of intelligent and future-proof charging infrastructure now is the attractive funding programs provided by federal and regional authorities. The federal government's charging infrastructure master plan provides for extensive funding for setting up one million charging points by 2030. This includes the funding of consultation services and intelligent charging technologies. All funding programs can also be found in our extensive funding database.
7 advantages at a glance
Increase site appeal for existing tenants and new ones
Positive, sustainable, and future-oriented image for your property
Highly visible upgrade of your property's value
Competitive advantages over other locations
Compliance with legal requirements and obligations
Attractive funding from federal and regional authorities
Possibility of certifying your property as sustainable
Your personal contribution to the transition to electric transport as commitment to fight climate change
Many tenants will pay for their charging facilities themselves
The set-up initially incurs costs. Most tenants in commercial properties are, however, willing to install the charging infrastructure themselves and at their own expense. As property owner, you are in this case in the comfortable position of being able to fulfill the legal requirements for your property with little expenditure of your own. Furthermore, you only need to be involved if the tenants and the grid operator/power supplier need to reach an agreement on detailed issues, which can normally be cleared up quickly and easily.
The implementation of charging infrastructure, regardless of who this is done by, increases not only the value of a property but also the attractiveness of the location. And this applies even for properties that are located in non-premium areas, as they provide additional value for the increasing numbers of tenants and customers who drive electric cars: with electric car sales increasing, charging points at the workplace are more and more sought after, and the development of infrastructure is currently severely lagging behind the numbers of new vehicle registrations. Charging infrastructure can therefore also give you a major advantage over your competitors, particularly in urban environments where few electric car drivers have their own charging station at home.
To make maximum benefit from all the advantages of charging infrastructure as an owner, you should ensure that you use a flexible, hardware-agnostic, and thus future-proof system in your property, such as ChargePilot® by The Mobility House. The Charging and Energy Management system is based on open standards, which will enable subsequent expansion on both the hardware and the software side. Open systems such as these are thus able to grow with the requirements of their users. This means that it is not necessary to set up a large, all-inclusive solution equipped for all possibilities immediately. You can start off small and expand gradually as demand and requirements increase.
A key issue is that the mains connection capacity needs to be configured efficiently and to suit needs, particularly if multiple electric cars are to be charged in one place. With intelligent control of the charging points—whether static or dynamic—the mains connection can be put to optimum use and expansion costs can be avoided. Experience has shown that ChargePilot®, for example, saves 30 to 70 percent of costs—both in the initial costs for the set-up and the running operation costs. Dynamic charging management is particularly advisable in locations with additional power-hungry consumers. It can be used to distribute the available power optimally and reliably in real time, without any impact on existing consumers.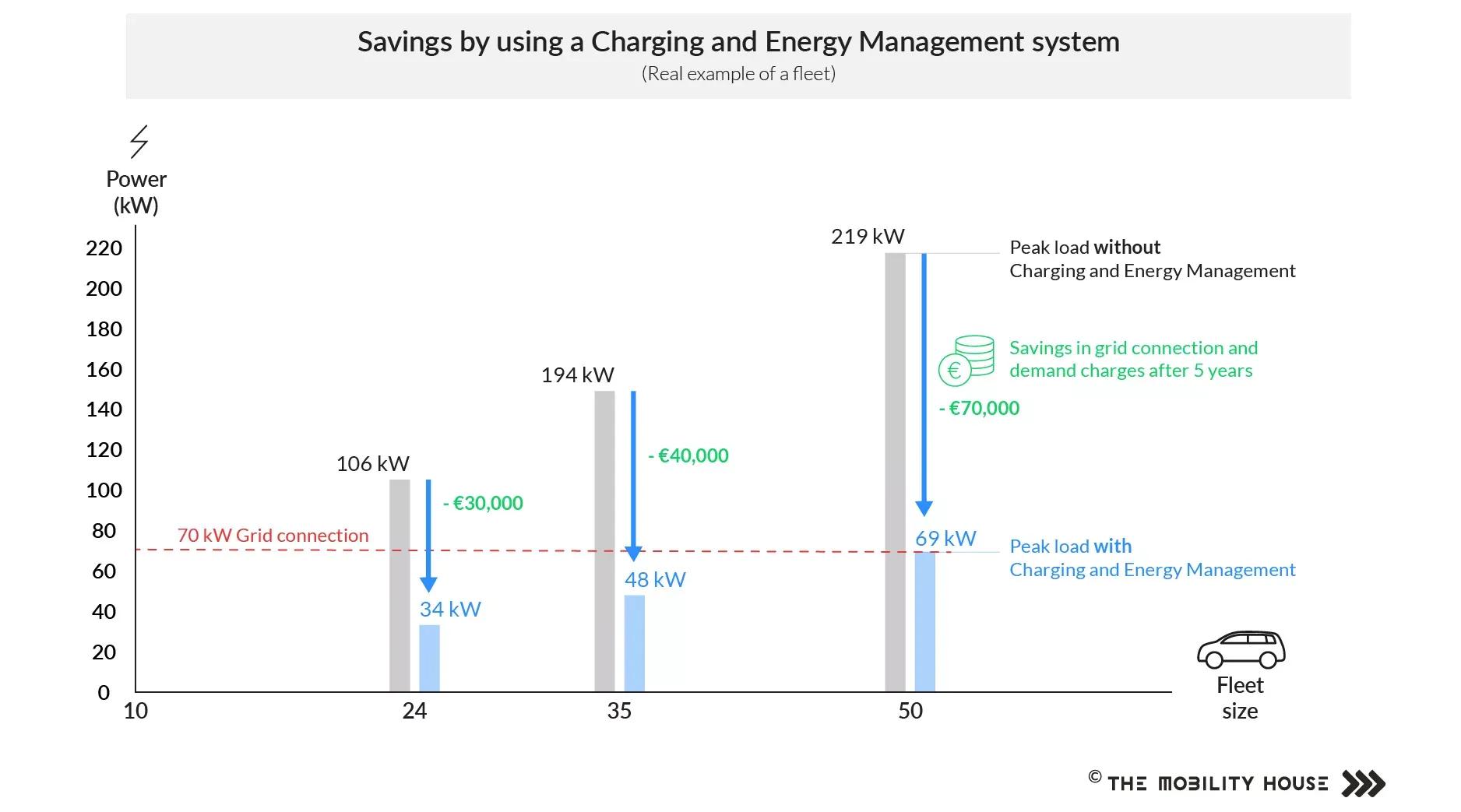 Electric car charging infrastructure requires little day-to-day work from lessors
In the commercial environment, it can sometimes be the case that multiple user groups want to set up charging infrastructure—but their requirements are different. A clever system such as the one by The Mobility House provides the flexibility of fulfilling various requirements during set-up and, in operation, the function of monitoring and assigning the various charging processes of multiple tenants automatically, transparently, and in accordance with calibration laws. ChargePilot also provides the option for you as the owner of a building to set up and operate the basic system (consisting of charging and energy management system, backend system, and web portal) while the individual tenants are themselves responsible for their charging points and how they are operated.
With an intelligent system, the amount of work required on a day-to-day basis is reduced to an absolute minimum. On top of all this, ChargePilot® is one of the few solutions currently available on the market to offer the possibility of combining AC wallboxes with up to 22 kW with fleet DC-chargers for rapid charging. The latter in particular can become a key factor for the site, as it makes the site appealing even for electric car drivers who spend little time at the building (e.g. in business parks). As a hardware-agnostic system, ChargePilot® enormously expands hardware flexibility and thus ensures that the charging solution remains sustainable—as it has no long-term dependencies.
Yet, people still voice concerns about electric mobility. Most of them can, however, be dispelled, such as the concern of electric cars increasing the risk of fire. If installed correctly, electric cars and their charging infrastructure do not increase the risk of fire, as confirmed by the ADAC (Europe's largest motoring association), the Working Group of Heads of Professional Fire Departments (AGBF), and the GDV (General Association of the German Insurance Industry). Fire protection experts from the insurance companies Allianz and Axa, and those from the inspection company Dekra, have determined independently of each other that the fire risk posed by electric cars is roughly the same as, or even lower than, that of vehicles with combustion engines. From a fire protection perspective, no special arrangement or sizing of parking spaces is therefore needed for electric cars. Charging facilities can also be used in underground car parks without any problems, as long as they are certified and installed professionally.
To sum it up: electric mobility is worthwhile
Overall, you only stand to gain from intelligent and future-proof charging infrastructure: it is a visible commitment to sustainability, increases the site's attractiveness for tenants and customers, and can raise a property's value—in renting and in sale.
With more than 85,000 charging solutions already sold and more than 500 sites using the Charging and Energy Management system ChargePilot®, The Mobility House has established itself as a leading company for intelligent charging infrastructure and is on hand to help with any technical and regulatory questions.
We have put together a compact summary of all the information for you: read our whitepaper or look at our supplementary checklist for a quick overview that can help you to plan all the major steps. We will also be happy to advise and support you personally - simply get in touch!