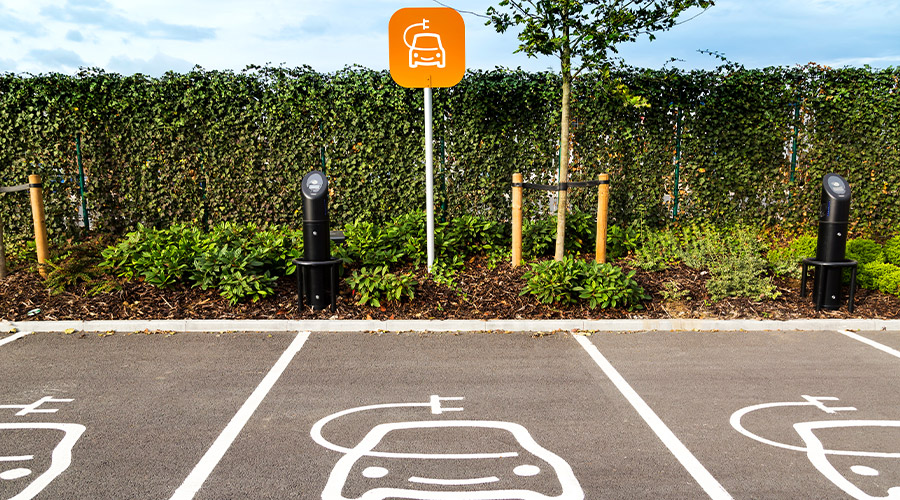 We encounter the German Weights and Measures Act every day: It ensures that exactly one litre of juice is in a bottle and that we get exactly the amount of cheese that we have paid for. There is currently a lot of discussion in electric mobility about the calibration laws, because since 1 April of this year charging stations must carry out invoicing according to the strict requirements of the calibration law.
The Mobility House has many years of experience with charging options for electric cars and, in a multi-part series on the topic of calibration laws, explains how a legally compliant charging solution can be set up and how invoicing must be carried out. And also where its absolutely necessary, as there are a few exceptions. That's why, with the help of experts, we have played out several specific application examples that are relevant for businesses and companies, fleet operators, hotels and real estate and apartment owners, among others.
In contrast to juice and cheese, it is not quite as simple to understand what the invoice for the electricity charged for electric cars consists of: To date, many operators charge by the minute according to the standard rate. Others charge a flat rate per charge or a monthly flat rate. The next one invoices based on kilowatt hours (kWh), and some add a base fee. You must be thinking – What a mess! And you're right. But this should be the end of it – at least for some things.
Charging stations must comply with strict regulations
Starting on 1 April 2019, Directive 2014/94/EU of the European Parliament and of the Council on the deployment of alternative fuels infrastructure (Alternative Fuels Infrastructure Directive, AFID) must also be implemented in Germany. Since then, all new charging stations must be built and carry out invoicing in accordance with precise regulations. A retrofitting plan must be submitted for existing stations. In Article 4 of the EU AFID Directive, "Electricity supply for transport," paragraph 10 states: "Member States shall ensure that prices charged by the operators of recharging points accessible to the public are reasonable, easily and clearly comparable, transparent and non-discriminatory."
In German legislation, the German Weights and Measures Act (MessEG) and the Price Indication Ordinance (PAngV) define themselves mutually in this case. For a charging station to process all the relevant data, it must comply with the requirements of German calibration law. In addition to correctly recording the amount of electricity drawn and the time, this includes safe processing of user data in compliance with data protection legislation. Since this is technically difficult to implement due to the strict hardware and software requirements, the legislature provided a transition period that expired on 1 April, as mentioned above. Paragraph 3 of the Price Indication Ordinance says that electricity prices for charging cars must be quoted and invoiced correctly, understandably and transparently based on kilowatt hours. In a legal opinion, the German Federal Ministry for Economic Affairs and Energy clearly defines how invoicing must be carried out by charging stations. Strictly time-based rates and flat-rate session fees for each charge are no longer permissible. Only the following types of invoicing are still allowed:
Purely consumption-based invoicing exclusively according to kilowatt hours charged
A combination of a kWh rate plus a start fee, base fee or infrastructure usage fee
A combination of a kWh rate plus a standard rate based on time, like a parking fee in a parking garage or parking lot. This rate is also suitable for preventing popular charging stations being unnecessarily blocked.
Flat rate invoicing as a monthly flat rate, comparable to a mobile smartphone flat rate
Electricity free of charge, such as in supermarket and shopping centre parking lots
Various use cases still make legally compliant charging on an everyday basis somewhat more complex than you may initially expect. For charging at public charging stations, the situation is still clear: Since the electricity must normally be paid for, the stations must comply with German calibration legislation. The only exceptions are if the electricity is invoiced according to a flat rate or if it is given away for free.
But how does that look in other situations?
Charging at work or charging a company car at home Does this charging station also have to be compliant with calibration laws? How can the electricity in a homeowner association be correctly allocated to the individual parties, and how can hotels and holiday accommodation providers invoice the electricity for their guests who want to charge their electric cars? What technical solutions are allowed? Where could problems arise?
The Mobility House has studied the relevant legislation and asked the experts. In a multi-part series, we will go into detail about various everyday scenarios. Part 1 is about employees and guests charging at work or on a company's premises, as well as correct invoicing for a company car at an employee's home. In Part 2 of our series, apartment owners, homeowner associations and real estate companies will learn everything they need to observe to provide legally compliant charging.
In Part 3 of our series, we give hotel operators and providers of holiday apartments and condominiums tips on how they can bill their guests for charging their electric cars in a legally compliant way.
Subscribe to our newsletter, and you won't miss any of our articles on legally compliant charging. You will also stay up to date on new products and promotions, as well as learn about tips and trends from the world of energy and electric cars.