The goal
Intelligent charging for e-trucks
With their large batteries, fully electric trucks are particularly hungry for energy. That made the most efficient possible use of the electricity grid connections at multiple locations across the country all the more important to the Volvo Group (Switzerland). Another decisive factor in favor of our intelligent Charging and Energy Management system, ChargePilot®, was that it offers scalability at any point in time.
The Volvo Group (Switzerland) was looking for a comprehensive solutions provider that could cover everything to do with charging e-trucks as well as e-cars. It would need to offer initial consulting, analysis and design, and then bring the charging structure to life. Hardware and software would also be needed – along with an integrated charging and energy management system.
The challenge
Logistics demands high power outputs
The huge amount of energy required by e-trucks means there is a particular challenge in electrifying the trucking industry. Couple that with the short vehicle turnaround times typical in the logistics/transport business, and you need quick bursts of high-performance charging.
Our solution
A multifaceted approach to charging infrastructure
Our intelligent Charging and Energy Management system, ChargePilot®, which includes load management functionality, ensures that the grid connection available at any moment in time can be used as efficiently and cost-effectively as possible. Thus charging sessions are aligned with the connection's capacity on a dynamic and intelligent basis, taking the electricity being drawn by other users at the location into account.
For the trucks, one of the solutions deployed is Volvo's 43kW AC wallbox charger. These are mainly for recharging an empty truck battery overnight. But DC charging stations offering up to 360kW were also set up at numerous locations, in order to charge the trucks fast when necessary. In addition, 22kW AC charging stations made by KEBA and Alfen are installed at various locations. These are for charging cars as well as trucks.
Going forward, some locations are set to be fitted with solar power systems to handle charging that exceeds available capacity. Also feeding into the energy system will be further AC charging points for charging e-trucks. This is another area where ChargePilot® offers a distinct benefit by being hardware agnostic.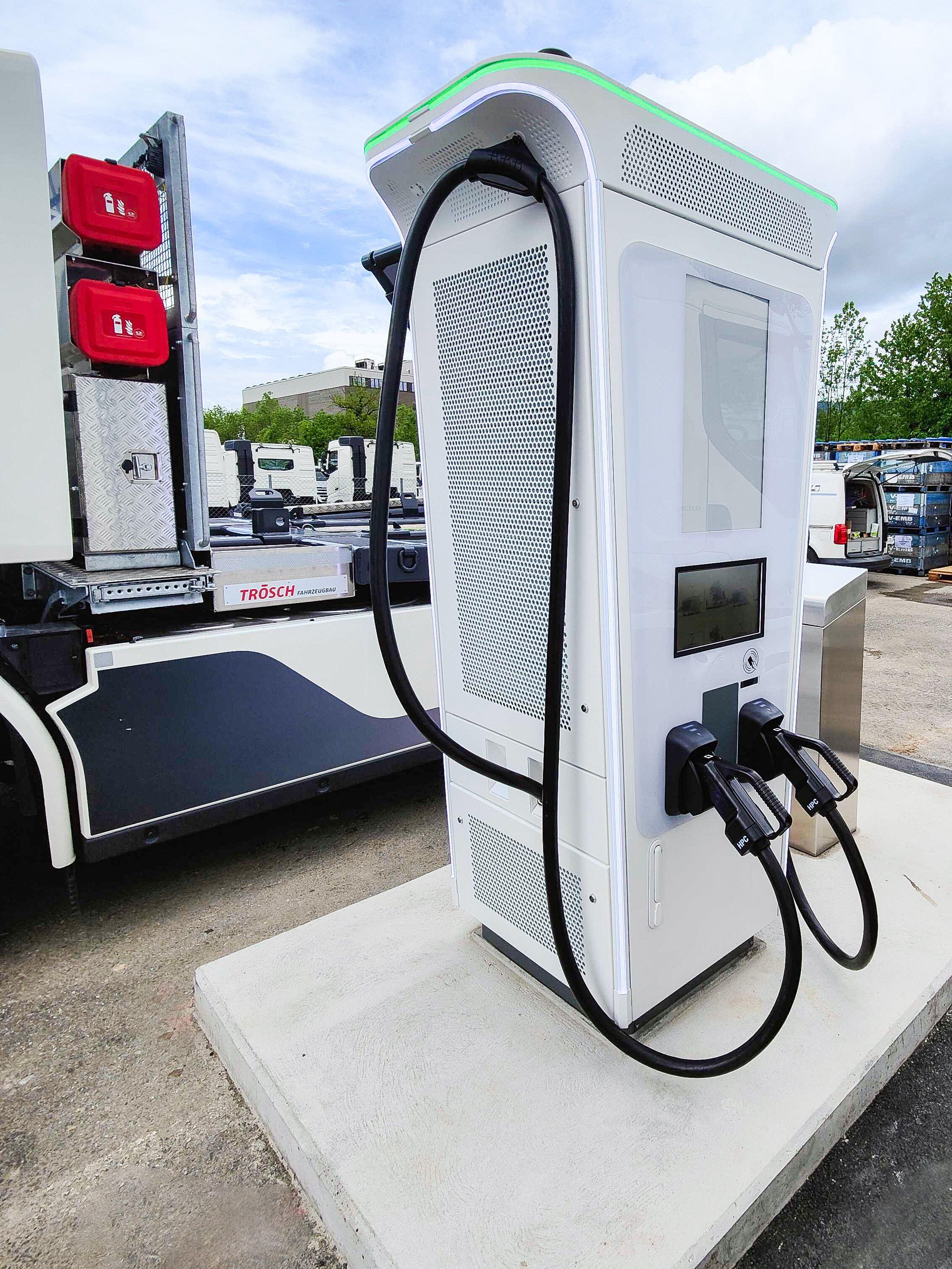 "Charging electric trucks is an enormous challenge for us. Both fast-charging stations and wallbox chargers need to be optimized for the grid connection. Thanks to the collaboration with our solutions partner The Mobility House, we have succeeded not only in overcoming this challenge at our group's locations but also in meeting the requirements of our truck clients with regard to advice as well as a secure, scalable and future-proof charging service."
Roland Gruber,
Retail & Truck Center Manager Switzerland
Success story
E-trucking is even cheaper with ChargePilot®
In the first instance, it's the eight Truck Centers belonging to the Volvo Group (Switzerland) who are benefiting from this comprehensive support. The same applies, as and when required, to their 10 private market partners. According to our load analysis, the savings run to several thousand Francs per year and location when compared to unmanaged charging.
Switching to electric trucks is particularly appealing in Switzerland. E-trucks are exempt from the Heavy Vehicle Charge, and expected to remain so until 2030. The toll charged in Switzerland and Liechtenstein for heavy vehicles (trucks, etc.) weighing over 3.5 metric tons amounts to one Franc per kilometer for particularly heavy trucks. When mileages lie in six-figure territory, investing in an electric truck and the associated infrastructure pays off very quickly.