Project facts
Location:
Underground car park
Charging stations:
70 AC wallboxes, 22 kW each (multi-stage expansion)

Services by The Mobility House:
Concept | Charging Infrastructure | Operation
Savings:
Grid expansion: ~ €80,000
Operation: up to €50,000/year
To quickly and reliably charge their own fleet of vehicles - and the electric vehicles of the employees at their administrative office - Mainzer Stadtwerke, the Mainz municipal utility company, successively equipped parts of its underground carpark with smart charging infrastructure. In total, 200 parking spaces were electrified. Implementing the project required a future-proof technology that would prevent overloading of the grid expansion in the later stages of the development. It also needed to offer the possibility of integrating an invoicing system.
Solution by The Mobility House
ChargePilot, the charging and energy management system, is a perfect match for the application at Mainzer Stadtwerke:
Transparent: Monitoring gives a clear overview for all charging stations and allows the creation of statistics. The data from the statistics can be used later for invoicing.
Scalable: n later stages of development, additional charging stations can be incorporated into the system. The manufacturer-independent system gives the municipal utilities company freedom of choice when selecting charging stations.
Economical: Without load management, the grid connection would be overloaded. The module avoided expansion of the grid and prevented expensive peak loads. This keeps the investment and operating costs low.
Modular: The system can be expanded at ay time to include additional modules.
At the Mainz site, the network environment would soon have reached its limits because of the additional load on the charging stations without any load management. However, The Mobility House's analysis revealed that the intelligent charging and energy management ChargePilot works well with the infrastructure.
For Mainzer Stadtwerke not only the broad information and product range of The Mobility House is very interesting, but also the fact that ChargePilot is vendor-independent and modularly scalable. Intelligent charging makes it possible, for example, to make better use of existing energy reserves at a certain point in time.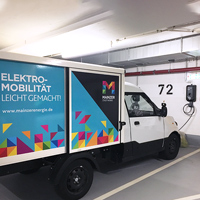 Our partnership with The Mobility House will allow us to take a pragmatic, flexible approach on our journey towards an e - mobile future. Customers are our focus, and working with TMH allows us to implement custom solutions.
Dr. Sandra Schmidt - Managing Director of Mainzer Stadtwerke