It's that time of year again! The Federal Transit Administration (FTA) has officially announced the notice of funding opportunity (NOFO) for its Low or No Emission Grant Program (Low-No Program). Low-No application season is an exciting time for transit agencies across the country. Now is the time to apply for funding to advance your agency's zero emissions goals and take advantage of the $1.2 billion that FTA will award this year.
While the prospect of securing funding for your zero-emission fleet program is exciting, putting a successful application together requires hard work and strategy. Low-No grants are highly competitive, and it's important to develop an application that demonstrates that your agency understands what is needed for your electrification project to be successful. Charging and energy management (CEM) software is one of the most overlooked scope items in Low-No applications, and this article will walk you through how including CEM software can give your application a competitive edge in this year's cycle.
What is CEM software?
CEM software, also sometimes called "charge management," or "CMS," is a system that helps you manage your fleet charging. Most CEM software solutions will manage your charging within a set grid capacity and optimize charging around your utility rate structures to minimize the cost of charging your electric vehicles. More sophisticated CEM systems will include more advanced optimization capabilities, including the ability to manage charging around your fleet schedules to ensure your electric vehicles are charged and ready to go when they are needed.
The Mobility House's ChargePilot® is the most widely used CEM system on the market with more than 1,200 sites implemented worldwide and includes advanced charging optimization capabilities alongside its unmatched reliability, resilience, and interoperability. ChargePilot is a hybrid hardware-software system that includes a local controller. The local controller is a hardware component that stores the charging optimization parameters and algorithms locally which allows ChargePilot® to continue optimizing charging even when the internet connection cuts out. The reliability and resilience of the local controller combined with The Mobility House's unparalleled experience has made ChargePilot® the preferred CEM solution for transit agencies across the US, including King County Metro, Antelope Valley Transit Authority and the Brookville Depot in Montgomery County, Maryland.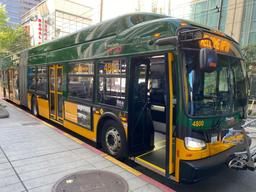 Video: King County Metro's electric bus charging facility tour
Take a video tour of King County Metro's innovative South Base Test Charging Facility & Power Distribution Center.
Watch Now
Why should I include CEM software in my Low-No application?
CEM software is critical to the success of a transit electrification project. Transit electrification projects are highly complex, and many agencies will encounter challenges associated with grid capacity limitations and expensive utility bills from charging their electric buses.
Grid capacity limitations are one of the most common reasons a transit electrification project will get delayed. Planning, funding, designing and constructing grid capacity improvements, including upgrading a transformer and/or substation, can cost millions of dollars and add an additional two years onto the implementation of your project. These project delays are problematic for Low-No applicants since FTA requires all funds to be obligated within three fiscal years of award. CEM systems are a cost-effective way to streamline the deployment of your zero-emission fleet project and avoid detrimental project delays that could put your funding award at risk.
Expensive utility bills can also be a barrier to scaling your electric fleet. Many utility providers across the country have rate structures that include time of use rates and demand charges. Charging during time of use rates or spiking demand charges can increase the cost of your operations by thousands of dollars a month. CEM systems help you optimize charging around your utility rate structures, so you can save money on your utility bill and have more operational funding that can go towards providing higher quality transit services.
CEM systems are critical to the success of transit electrification projects. Low-No funding can help you pay for the upfront costs of implementing a CEM system and the initial subscription cost. Including a CEM system in the scope of your Low-No application can help you demonstrate that you have thought through the components you need to manage the charging of your electric bus fleet and support the operations of your fleet.
What is the best way to include CEM software in my Low-No application?
FTA allows Low-No applicants to list project partners in their application, and doing so can allow your agency to streamline the procurement process. Specific partners listed in Low-No applications can be contracted to provide infrastructure and services necessary to complete the scope of the project without an RFP process in many cases. Bypassing the more formal procurement process can help you deliver your project in the timeframe required by FTA.
Reach out to The Mobility House today to talk about how you can include CEM software in your Low-No application. We can help you develop a competitive project scope, refer you to leading consultants who can help you develop your application, provide you a quote for CEM software, and work with you to include a partner letter for CEM software for your application. We are here to help you advance your electrification goals and be successful in this year's Low-No cycle!