Fleet Managers don't have range anxiety - they have range awareness, and they're making educated decisions when it comes to fleet electrification. Our analytics team at The Mobility House appreciates the expertise that fleet managers bring to the table when planning for electrification. A recent update to our in-house simulation and modeling tools allows us to look deeper under the hood and address one of the most pervasive challenges we have heard Fleet Managers telling us about when planning for electric fleets—the impacts of weather and extreme temperatures on battery efficiency and vehicle range.
Simulating energy demands
The Mobility House has a robust simulation tool that we use to model the energy demands for electric fleets. This accounts for many variables, from vehicle schedules and route distances to battery size, charging infrastructure and electricity prices. The more accurate these models are, the more confidence fleet managers can have when allocating capital budgets for vehicles, charging infrastructure and software like our charging management system, ChargePilot. With the latest updates to our simulation tool, our models now incorporate temperature data from the National Weather Service at a fleet's location to account for energy demands from a vehicle's HVAC system and the impacts of ambient temperature on battery efficiency. These are key considerations for fleets operating in extreme temperatures.
Real-world range vs. rated range
One study published earlier this year from telematics provider, Geotab compared vehicle's rated range to the real-world range from 5.2 million EV trips. On average, vehicles were losing around 20% of their range in low temperatures down to 32°F and high temperatures up to 104°F.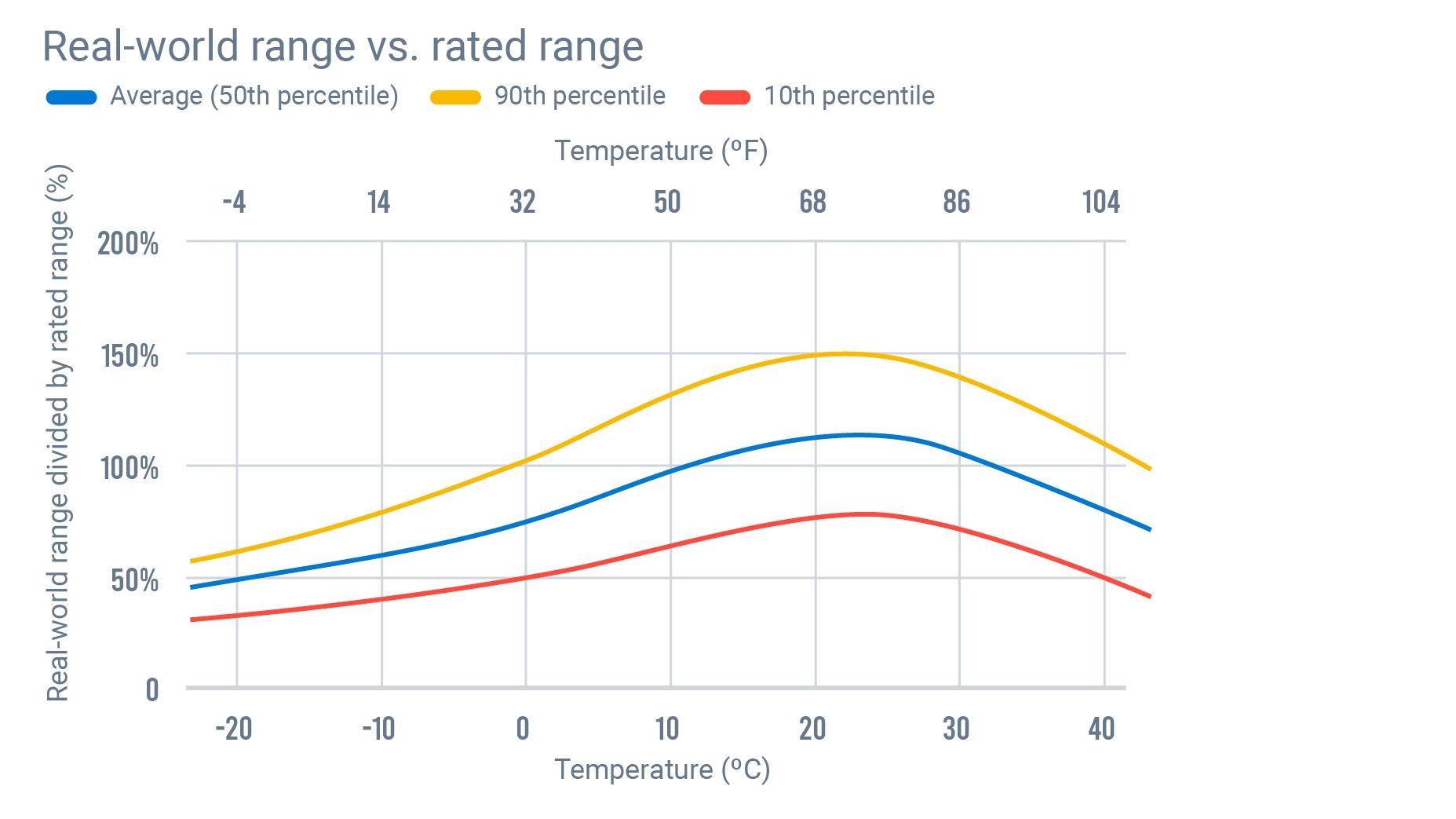 Data modeling
These numbers can have huge implications for fleet managers planning for electrification in many parts of the country. In a recent informational session for a federal grant funding program, the Q&A was filled with fleet managers requesting better advice on how to plan around weather's impact on vehicle range. One transportation director said, "Please send us the Minnesota use case. We aren't confident given our cold winters", while another said, "We are in Phoenix, it's going to be 113 degrees today." Without good data and accurate modeling, some of these challenges have appeared insurmountable for fleets operating in extreme conditions. We're excited that we now have better tools to answer some of these questions from the smart charging and electrification planning perspective.
Fleet managers understand better than anyone the operational challenges and risks of having a vehicle not ready at departure time, or even failing to complete a route. The Mobility House data analyst Sabrina Lem says with our updated modeling features, "We are now more conservative and accurate with our simulation findings. This could help catch any expected 'schedule failures' due to weather, and we can simulate extreme temperatures to help fleets plan for the worst-case scenario."