California has dominated EV deployment since the onset of vehicle electrification due to a combination of its supportive policies and its proximity to manufacturers like car makers Tesla and Rivian and bus makers Proterra and BYD. While California may also be home to the first all-electric transit fleet, transit agencies across the country are picking up speed in their own electrification efforts. What's more is that with The Mobility House, these transit operators are setting themselves up to save 30 to 50 percent annually on operating costs.
Knoxville Area Transit's electric transformation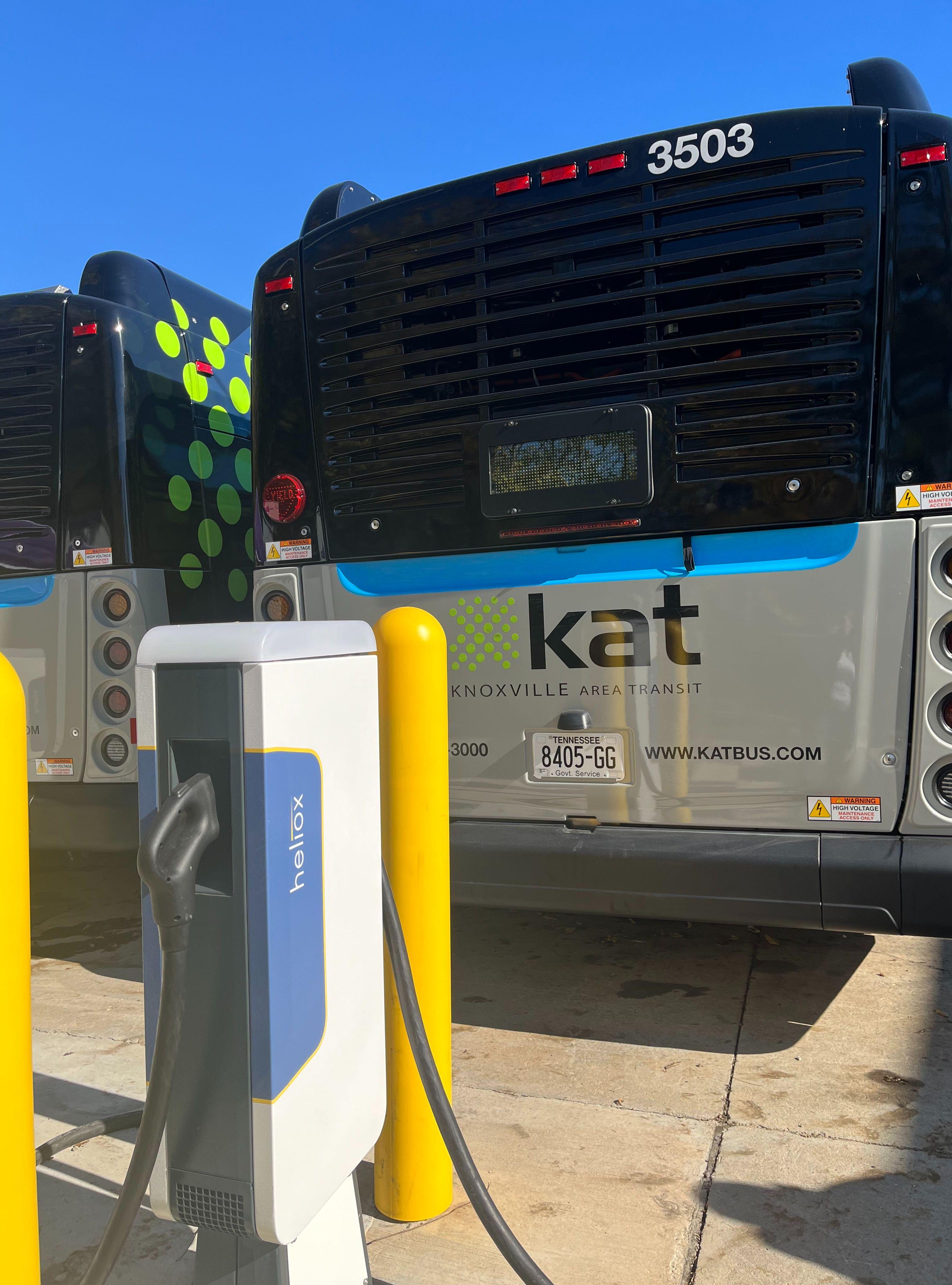 Did you know electric vehicles are up to 50 percent quieter than a standard vehicle, making Knoxville's roads not only cleaner but a lot less noisy. Knoxville's new electric buses will also help the city prevent nearly 300,000 pounds of carbon from emitting into the air – that's like planting 2,283 trees every year.
To undergo its electric transformation, KAT teamed up with The Mobility House, New Flyer Infrastructure Solutions (NFIS) and Heliox to design and build an electric transportation ecosystem that is both reliably and intelligently managed. New Flyer, responsible for managing the entire infrastructure project from planning to implementation, also provided 12 60-foot electric buses. New Flyer selected The Mobility House as the project's charging and energy management provider, after having successfully partnered together on several other transit projects, including St. Louis Metro and Antelope Valley Transit Authority. The Mobility House's ChargePilot is installed at the KAT's Magnolia Facility, where it connects to six dual-port 180 kW Heliox Flex chargers for a combined 1,080 kW of power. This integration marks The Mobility House's first installation of Netherlands-based Heliox's 180 Flex product in the U.S. KAT is planning to add six more buses and seven more dual-port chargers later next year, all of which will be managed by ChargePilot. Best of all, ChargePilot's interoperability means KAT can seamlessly manage new chargers alongside its existing charging infrastructure into the future.
Why transit agencies choose intelligent charge management
By avoiding demand charges and time-of-use energy rates, The Mobility House's charging and energy management system, ChargePilot, can reduce fleet operators' bills by 30 to 50 percent annually. Plus, fleet operators have peace of mind knowing their buses will be ready and charged for all scheduled service blocks. King County Metro in Washington, for example, is projected to offset over $1 million in total cost of ownership by leveraging The Mobility House's charging and energy management solution. Unlike other charging systems, ChargePilot uniquely leverages existing grid connections or optimizing charging to operate at grid-constraint sites, which is made possible only with The Mobility House's hybrid local-plus-cloud solution. Want to learn more about the benefits of ChargePilot? Explore Why Electric Fleet Operators are Prioritizing Smart Charging and Energy Management or schedule a demo to see what The Mobility House can do to help electrify your transit agency.