As the deadline for applications for the Federal Transit Administration's Low or No Emission Program (Low-No) approaches, transit agencies across the country are looking to finalize the scope of their proposed projects. At this stage in the application process, you likely know how many battery electric buses (BEBs) and chargers you are planning to apply for. You may even have an idea of the supporting infrastructure improvements that you need to make your project a success. While the hardware and infrastructure components of your electrification project are the foundation of any successful Low-No application, they are not the only components that are needed to make your project a success. Supporting software systems are a key component of successful BEB deployments and are often overlooked when transit agencies apply for Low-No.
Can I include software subscriptions in my Low-No application?
Yes, the Low-No program website specifically states that the purchase or lease of software for Low or No Emissions Vehicle bus operations is an eligible expense. When it comes to including software in your Low-No, there are a couple of things to bear in mind. First, some software packages have one-time set up fees. These one-time costs are usually very easy to include in your application since they are not reoccurring and would be paid upfront to begin with.
Additionally, many software companies are priced based on annual subscription fees. For the purposes of grant applications, we usually recommend that our clients include a minimum of a 5-year subscription in their application to fully fund ongoing support. Some of our clients have even expressed an interest in including a 10- or 15-year subscription that would be paid upfront with Low-No funding. Structuring the subscription cost this way in the Low-No application allows the cost to still qualify as a one-time upfront cost per the low-no eligibility criteria while setting up your agency for long-term success.
What software systems should I consider including in my Low-No application?
There are several types of software systems that you can use that will help you intelligently manage your BEB fleet. This section will break down all the key components you should be thinking about as you develop your BEB program.
Charging and Energy Management Software
First up is charging and energy management (CEM) software, which is also commonly known as charging management systems (CMS) or charge management. CEM software allows you to manage charging your vehicles within the set grid capacity of your site, optimize charging around your utility rate structures, and prioritize charging vehicles based on their block schedules. It can also provide remote start/stop/restart control over your charging sessions, and allow you to pull fleet charging data for reporting purposes (such as LCFS in some western states). CEM systems can serve as a central part of your BEB software ecosystem because it can integrate with other important software systems.
ChargePilot® is the industry-leading CEM software, currently deployed at more than 1,200 sites worldwide. As a hybrid hardware-software system that includes a local controller, ChargePilot® is a reliable and resilient CEM system that will help you minimize the cost of charging while ensuring your buses are charged and ready to go when they are needed. ChargePilot® is compatible with most major brands of chargers, and is an important addition to any Low-No application that will contribute to the long-term success of your BEB program.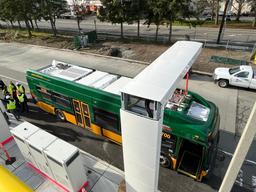 Video: King County Metro's electric bus charging facility tour
Take a video tour of the first-of-its-kind transit bus charging facility.
Watch the video
AI-Based Block Assignment Systems
One of the biggest hurdles for transit agencies looking to electrify their fleets is the variability of range possible with electric buses. Factors such as topography, weather conditions, driver behavior, stop-and-go requirements, and battery degradation can result in as much as 5x variability in range. This variability results in significant uncertainty in which pieces of work electric buses can cover, and forces tradeoffs between reliability and an ability to get significant work (mileage) out of the buses.
That's where an AI-based block assignment software system comes in. These systems use artificial intelligence to determine precisely how far and how much energy each bus will use on each piece of work on every day. They can then recommend which blocks BEBs should be assigned given the current conditions. These bus assignment recommendations take the guesswork out of electric bus operations and can help increase the reliability and utilization of your electric buses by 35%-50%.
WideSense is the industry leader for AI-based block assignment platforms. The WideSense system integrates with scheduling software systems and bus telematics software to assign BEBs to blocks. WideSense can also integrate with CEM systems like ChargePilot® to send the target state of charge and departure time of the vehicle, so your charging can be prioritized based on block assignments.
Depot Management Software
Another up-and-coming software system in the transit industry is depot management software. Depot management systems provide a dynamic map of your bus depot and include real-time information about the status of your infrastructure and BEBs. They are designed to help you know which vehicles are available to be deployed based on their current position in service and parking workflows. While depot management systems can support any types of vehicles you may have in your fleet, BEBs have been a driving force in the deployment of depot management software based on the benefits they provide in coordinating charging and dispatch.
Depot management software can integrate with vehicle telematics systems and CEM software like ChargePilot® to provide a comprehensive overview of the status of your infrastructure and vehicles. Through the industry standard of VDV 463, ChargePilot® can send information about the charger status to the depot management system. This allows ChargePilot® to alert the depot management system if one of the chargers has an error. The depot management system would then know not to direct any vehicles to park at that charger until the error is resolved. The visualization and real-time status features of depot management systems will allow for smoother operations of electric vehicles.
Giro offers a leading depot management module as part of its fleet management software Hastus which allows transit agencies to better manage their vehicles while they are at the depot.
Bus Telematics
Bus telematics systems provide data about the vehicle's performance and real-time status while it is on the road. These systems can provide valuable insights about your vehicles and can be integrated with other software systems. WideSense, for example, integrates with vehicle telematics systems to develop digital twin models of buses, bus components, drivers and routes to understand battery health and accurately predict which vehicles can complete certain service blocks, based on the block profile, assigned driver, conditions, and specific bus.
Most vehicle OEMs offer their own vehicle telematics systems; however, some agencies will purchase a third-party bus telematics system that is interoperable with buses from different manufacturers to have one system that can provide a comprehensive overview. Sycada is a leading bus telematics provider that allows transit agencies to gain insights into driver behavior, vehicle operations, and battery-health. Transit agencies should work with their bus OEM to determine the right bus telematics system for their fleet.
Scheduling and Dispatch Systems
Most transit agencies have scheduling and dispatch systems that they've used to manage their bus fleets regardless of the fuel type. These systems can continue to be used for BEBs. However, many of the companies that provide these software systems have been developing upgrades that can help you manage your BEB fleet, including systems to help you plan your blocks for BEBs based on the estimated SOC vehicles need to complete blocks. Scheduling and dispatch systems can integrate with ChargePilot® via VDV 463 and with WideSense.
How to include software subscriptions in Low-No application?
One of the best ways to obtain funding for the various software systems is by including it in your Low-No application. As you create the budget for your application, be sure to include line items for the software systems you need for your project. You can also list software providers as partners in your application to meet federal procurement requirements without conducting a separate procurement process after award. Reach out to The Mobility House today for quotes and to discuss including software as part of the partner provision of your application.