eCar policy: challenges when introducing electric cars
Fleet specialists recommend thoroughly researching the topic before purchasing electric cars, for example finding out what changes will have to be made to the fleet guidelines. In general, the aim of a car policy should be to treat employees as equally and fairly as possible, to ensure calculations are reliable, and to keep the costs of fleet management and procurement as low as possible. Another important point that the executive managers of a company should discuss is what purpose changing the fleet over to electric vehicles is to serve. Many decision-makers also want to make a statement to those outside the company regarding sustainability and environmental responsibility. Others have noticed that making an investment in electric cars brings considerable cost advantages with regard to the total cost of ownership (TCO) in most cases.
It must be kept in mind, however, that an electric car is not the right form of transport for every employee. Sales reps, for example, whose vehicle is like a second office, and who cover in some cases significantly more than 60,000 miles a year on freeways and expressways, would probably not be happy with an electric car designed for an urban environment. It thus makes sense to define different user groups and to issue vehicles accordingly. There are certain details that need to be taken into account here, such as how the vehicle is powered, and whether a fully electric car should be considered for a particular user group or a plug-in hybrid. For fully electric cars, experts recommend a minimum reach of 150% of the distance from the home to the workplace and back, if charging is possible at one of the two locations.
To ensure that plug-in hybrids are driven in fully electric mode as much as possible, some companies have come up with the following strategy: the employer pays for the power and the gas is paid for by the employees themselves. This financial incentive should motivate employees to power their vehicle in the most sustainable way possible, i.e. just with electricity. It would also be helpful for a charging station to be available both at the workplace and at the employee's home, so that the battery of the part-time electricity user is fully charged as often as possible and the vehicle can be driven electrically as often and as far as possible.
A load management system saves charging costs
For companies ready to make the change, there are some additional things that need to be considered. In some fleets, for example, introducing electric cars could break up the brand strategy—if the previous brand of choice does not have suitable electrified vehicles in its portfolio. The necessary requirements for a reliable operation of the fleet—that is, establishing charging infrastructure on site—generally need to be fulfilled first. If a site has roughly three or more charging points, a charging and energy management system should also be installed so that the fleet can be charged as efficiently and inexpensively as possible and to avoid a time-consuming expansion of the grid connection. ChargePilot®, the intelligent Charging and Energy Management system by The Mobility House enables savings of as much as 70%—both for the initial installation costs and for the running costs in day-to-day operation. In 2020 this was 250 EUR/charging point for the average The Mobility House customer.
The graphic below illustrates the possible savings potential when a charging and energy management system is implemented.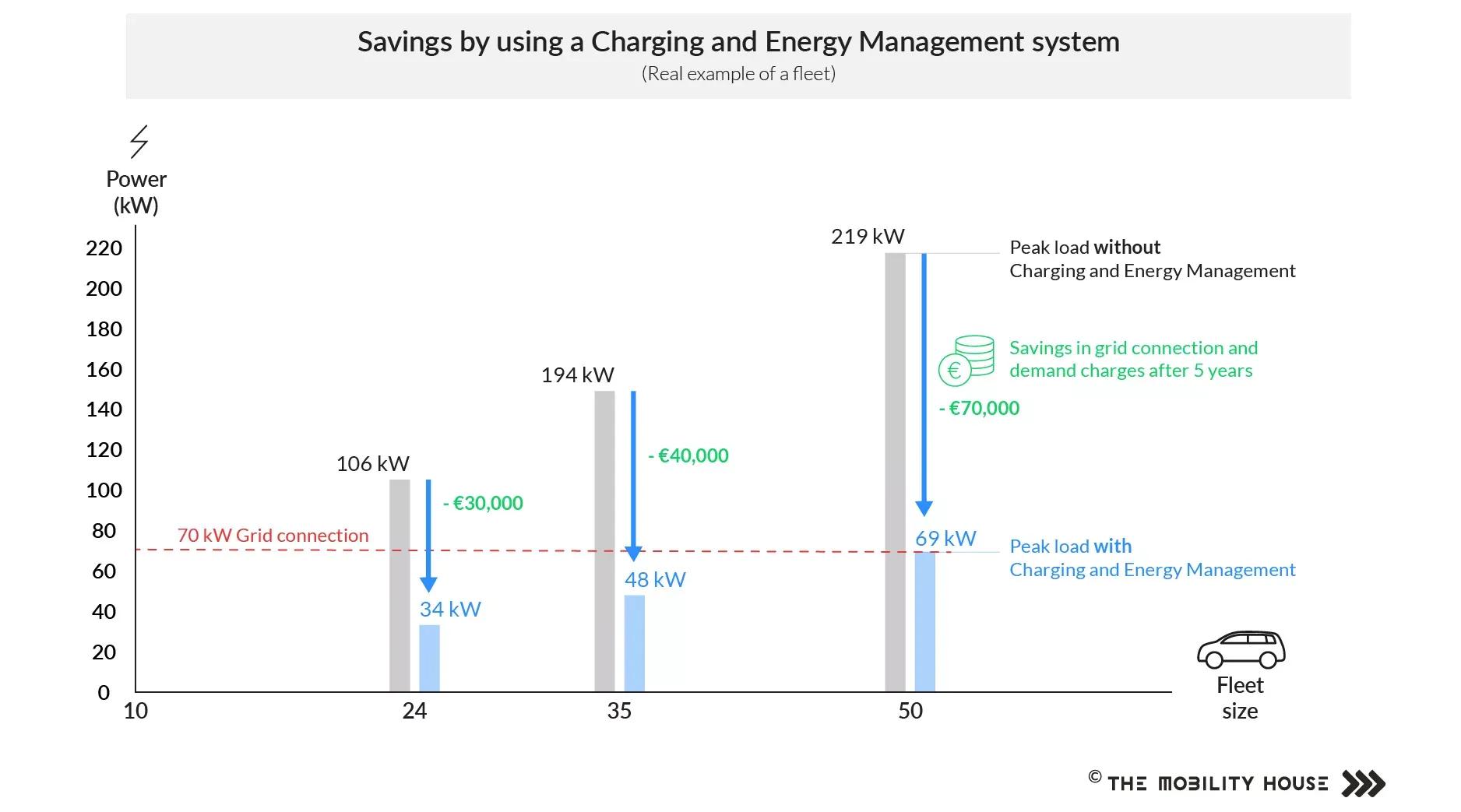 Installing a wallbox and billing charging processes at home
Furthermore, for the switch to electric vehicles, there are certain organizational matters that need to be clarified and initiated: for example, any training and briefing that employees may need on how to handle and charge electric cars. To make the use of electric cars as convenient as possible, employees should also be given charging cards that they can use in public charging stations and—where practical—it should be made possible for the employees to charge their vehicles where they live. Experience from recent years has shown that more than 80% of charging is performed at the workplace and at home, and the rest at public charging stations.
At some companies, employees who want to charge their vehicles at home need to organize and pay for the charging station where they live themselves—which is currently subsidized by the German Federal Government with a lump sum of 900 euros per charging point by means of KfW financing. In return, these companies then often bear the costs for charging: with the billing portal from The Mobility House, these charging processes at home can also be billed directly with the employer. And thanks to the tax benefits arising from the lower rate for the non-cash benefit with electric cars and the KfW financing for the installation of a privately used wallbox, the investment in a home charging point quickly pays for itself and brings major benefits in terms of convenience. Some employers also finance the set-up of a private wallbox with an additional subsidy.
Charging stations as an asset for the site
By providing infrastructure for electric cars—which naturally has to be supplied with green electricity—companies have the opportunity to show a strong commitment to combating climate change and being actively involved in the change toward sustainable mobility. At the same time, they can also increase their appeal for existing employees, young talent, and sought-after skilled workers. Furthermore, customers and partners increasingly appreciate it when companies use environmentally conscious technologies at their sites: in-house charging stations increasingly help to establish credibility and reputation among important target groups.
Before adequate charging infrastructure can be set up, it is important to determine the fundamental demand, while strategically taking into account the future expansion. In the medium term, industry insiders expect that half of company car parks will be equipped with a charging point. This makes optimum planning even more important, if the solution is to be cost-effective and future-proof. Making the wrong decisions can be costly, for example if an installation that was designed too small needs complex retrofitting or if selected charging stations cannot be updated to accommodate future developments (e.g. plug & charge).
Intelligent access and billing systems also support cost-effective operation of the charging infrastructure and offer diverse analysis and billing options. For example, if the charging of private, company and customer vehicles needs to be settled and balanced differently. The Mobility House also has an extensive pool of experience in this regard—which it gladly shares with its customers.
For all issues relating to intelligent charging and energy solutions for electric fleets, please contact our team of experts, who will be happy to advise you.