Most electric car drivers charge their vehicles at night, when the general demand for electricity is low. In industry, the use of electricity at night is rewarded by a cheaper tariff. However, only a few energy suppliers still offer a day/night tariff to individuals. Polarstern is one of these suppliers and specialises in green energy that is 100% hydroelectric.

In this blog entry, we will use the example of Alexander and his family to explain why we recommend green energy from Polarstern and just how much cheaper a night tariff is.


Why do we recommend green electricity from Polarstern?
Electric cars are only truly environmentally friendly and play their part in the "Energiewende" when they are charged emissions-free. If we compare the CO2 emissions from Alexander's Volkswagen e-Golf with those of the most popular combustion engine in Germany, the Volkswagen Golf VI, the following facts become clear: If the Volkswagen e-Golf is charged with the average German mix of electricity, the emissions are 106 g of CO2/km. The most environmentally friendly version of its fossil-fuel equivalent, the Volkswagen Golf VI, has an emissions rate of 139 g of CO2/km (and this does not include the CO2 emissions from petrol production, which would increase the figure by approximately 20%). The Volkswagen e-Golf is therefore only really environmentally friendly to run, at 0 g of CO2/km, when it is powered with green electricity.

Polarstern supplies green electricity that is produced 100% by German hydropower and actively promotes the development of renewable energy on both a local and an international scale. Each year, for every one of its customers, Polarstern supports a family in a developing country such as Cambodia, by helping it to construct its own micro-biogas plant.

Multiple seals of approval have been awarded in recognition of the source of Polarstern's green electricity and its commitment, including TÜV Nord and the "Grüner Strom Label" (German green electricity label). The criteria for the Grüner Strom Label are particularly strict: any company whose portfolio includes nuclear or coal-fired power stations is excluded automatically, as there is always the danger that these companies would buy renewable energy certificates for their nuclear and coal power, and use these to advertise their products. Electricity that is classified under the German Renewable Energy Certificate system as "grey" would then quickly become green. To stop this happening, the Grüner Strom Label stipulates that the source of the electricity and associated amount of electricity produced must be proven to be 100% from renewable energy sources. In addition, the company must demonstrate that it makes a fixed contribution to innovative energy projects, such as Polarstern's biogas plants. The result is an ever increasing number of green power stations to drive forward the "Energiewende".


Why is electricity cheaper at night than during the day?
Just like conventional power plants, hydroelectric power plants need to be operational more or less 24 hours per day in order to be economical. Equally, the time of day does not affect the wind. As we consume less electricity at night than we do during the day, there is a surplus of electricity at night.

To ensure that the grid is used to capacity as much as possible, electricity suppliers offer a lower price as an incentive to use electricity at night. The cheaper price is not just linked to the concept of using the grid to capacity, but is also associated with lower licence fees (the costs of using the electricity infrastructure).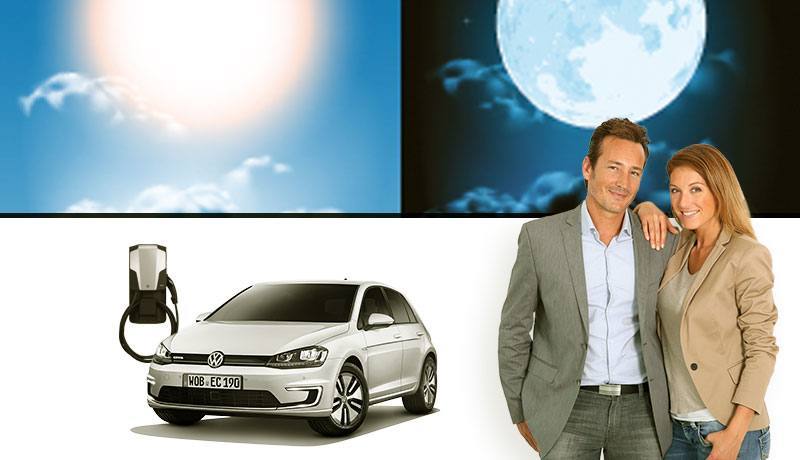 As a result, green electricity suppliers such as Polarstern can offer a day/night tariff with a clear conscience. By taking advantage of a day/night tariff from a green electricity supplier, you can drive your electric car not only at a lower cost, but also emissions-free, thereby contributing to the "Energiewende".


How does the day/night tariff work and how much will I actually save?
We looked at what Polarstern offers in more detail and, as an example of how a day/night tariff works, applied what we learnt to Alexander, who owns a family home in Munich, Germany. In general, the tariff depends on the grid area. In Munich, the reduced night tariff applies between 9 pm and 6 am Monday to Friday, as well as at the weekend. Just like 79% of the population, Alexander currently gets his electricity from the local, basic supplier and has signed up to the basic tariff.

Alexander owns a Volkswagen e-Golf, driving around 20,000 km per year. He charges his electric car at home overnight 80% of the time and, by using the Polarstern day/night tariff rather than the basic supplier tariff, saves EUR 97 per year. To calculate electricity consumption during the day and at night, Polarstern installed a smart meter free of charge.
Information about Alexander: Alexander lives with his wife Sandra and their two children, Leo and Maria, in their family home in Munich, Germany (post code 81545). Their annual electricity consumption is 6,068 kWh.


The family uses 3,500 kWh each year in the house and 1,400 kWh (40%) of this is during the night and at the weekend.
Alexander needs 2,568 kWh each year for his Volkswagen e-Golf and approximately 2,182.80 kWh (85%) of this electricity is drawn during the night and at the weekend. Consumption is calculated by multiplying the battery capacity (24 kWh) by the number of times charged (107)
Alexander knows that each time he charges his electric car, there are losses of charge which occur that we have not included in the calculation. These losses depend on the electric car model and charging capacity. Until now, Alexander had no experience of this, but he had read that some car manufacturers include the losses of charge in the car's energy consumption per kilometre.

Example calculation:
To determine the number of times charged per year:
Number of times charged per year = 14,000 km (70% of 20,000 km) / 130 km (average distance covered per charge)
Number of times charged per year = 107

First we calculate the annual electricity costs with the local energy supplier without green electricity.
| | |
| --- | --- |
| Annual electricity costs with the local, basic supplier at the basic tariff (as at November 2015): | EUR |
| Single tariff: 6,068 kWh x 25.62 cents/kWh | 1.555 |
| Basic charge: 9.46 EUR/month x 12 months | 114 |
| Total | 1.669 |
| | |
| --- | --- |
| Annual electricity costs with Polarstern's day/night tariff (as at November 2015): | EUR |
| Day tariff (standard tariff): 2,485.20 kWh x 25.55 cents/kWh | 635 |
| Night tariff (off-peak tariff): 3,582.80 kWh x 22.48 cents/kWh | 805 |
| Basic charge: 11.02 EUR/month x 12 months | 132 |
| Total | 1.572 |
Annual saving compared to the basic supplier tariff
97 EUR of your electricity costs and you are on your way 100% emissions-free.

.