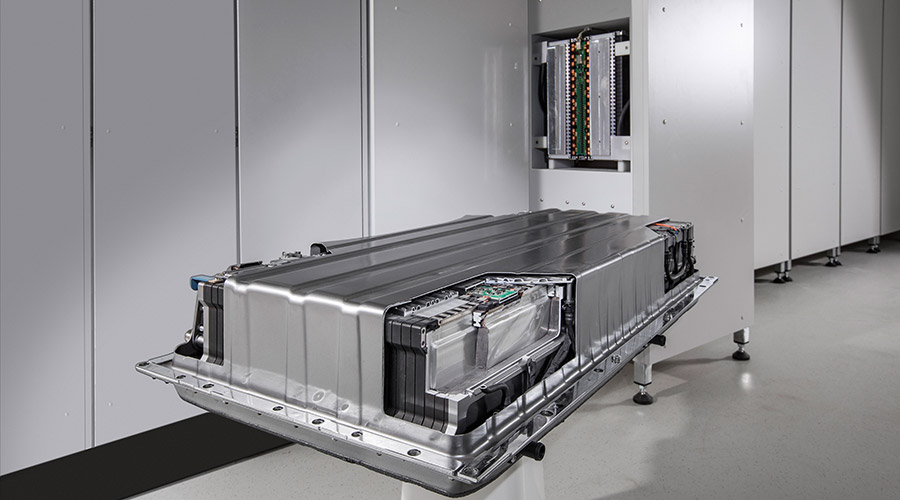 The battery is by far the most expensive part of an electric car. It is also one of the most important components, controlling the range and maximum available power of the electric engine. That means it's even more important that it lasts as long as possible. Initial field reports for electric cars that have been on the market for a long time, such as the Nissan Leaf (since 2010) and the Tesla Model S (since 2012), have shown that, under good conditions, a battery can last the car's entire lifetime.
For example, data from a survey of Tesla drivers showed that the battery package in a Model S had already driven 250,000 to 300,000 kilometres when it reached 90% of its original capacity. A battery can no longer be used in an electric car when its battery capacity drops below 80%. According to calculations and simulations by Tesla, this only happens after 800,000 kilometres. Think about it: according to figures from the Federal Motor Vehicle and Transport Authority, a car in Germany drives an average of 14,000 kilometres per year, which means you could drive 57 years before the Tesla reaches this limit. That sounds great. Unfortunately, it's not really that simple.
Whether in a smartphone or an electric car, a lithium-ion battery ages based on two factors: the time and the intensity of load. After 10 or 20 years depending on the cell type, or after a certain number of charging cycles, changes in the chemistry of the cell make the battery unusable. However, we can still influence this ageing process by carefully charging the vehicle and keeping it in optimal charging status, for example.
"We can significantly reduce the ageing of a battery"
The battery life of an electric car can also be extended significantly. The Munich-based technology company The Mobility House (TMH) has developed a software that is of assistance in this context. This software positively influences the electric car's energy storage. "By intelligently shifting charging times so that the charging process finishes just before the vehicle needs to be driven, battery ageing can be reduced dramatically. In fact, this process results in entire years of added service life", says Dr Robert Seiler, a battery expert at TMH. This intelligent software – the charging and energy management from TMH – automatically controls the charging process while taking into consideration issues such as load limits on location and output fluctuations in the distribution network.
The influence of the charging management system on battery ageing was also examined in a research project conducted with the Technical University of Munich. The first model results confirm that regulated charging processes can achieve reduced ageing compared to unregulated charging processes where the vehicle is often "fully charged" for long periods of time. Deviations fell between 1% and 3% after two years of simulated usage depending on the size of the battery, the number of kilometres driven and the cell type. "It really is in the interest of the car owners to have to replace their battery after 12 or 15 years instead of just eight", says Seiler. Although we don't have data from real-world experience yet, we think this projection can be achieved.
A used battery allows you to earn money
The software's positive impact is even more apparent when the battery can be used as stationary storage after its time in an electric car. This is called a second-life application. For example, they can be used in one of the battery plants that TMH has integrated into the market for primary control power (PCP), providing stability for the power grid and bringing in revenue. In 2017, TMH earned €1,134 per used electric car battery that was implemented in PCP. This makes it even more important and profitable to have long-lasting batteries. The software algorithm from The Mobility House also plays a decisive role here.
"The concept of second-life batteries is very interesting, because some used batteries from electric cars still have a high residual value", confirms Dr Holger Hesse, the deputy head of the Chair of Energy Storage Technology of Prof. Dr Andreas Jossen at TU Munich, who deals with the topics of battery ageing and the economic efficiency of different battery applications. "The electric and thermal load during PCP usage can be significantly lower and less harmful than during everyday use in an electric car. Therefore, it would be sensible to transition a battery formerly used as an expensive vehicle battery to a second life where it can be used for many more years.
The "exciting question" now, according to the scientist, is knowing when an efficiently used battery has reached the end of its second life and can no longer be used in second-life applications. The Technical University of Munich and The Mobility House are not the only organisations curious to know when this happens. The automotive industry and energy companies are also very interested in using battery systems for as long as possible in light of sustainability and the energy transition. "For second-life storage involving used batteries from electric cars, we assume they can be used for another ten to 15 years, and based on guarantees we have received from car manufacturers, we are very confident this is true", says Seiler.
The initial results from one large TMH project underscore this assessment. In the first two years of operation at the mega-storage facility in Lünen, the total available capacity of the system was improved by 0.3% thanks to voltage equalisation at the cell level and careful usage implementing the software algorithm.
The software, which intelligently regulates second-life storage and helps to delay battery degradation, is already being used in TMH's charging and energy management. This proprietary product is the only one of its kind in Europe used for intelligently charging several vehicles in one site; it doesn't depend on a particular manufacturer and is scalable in a modular way. The Mobility House is the preferred service provider of fleet customers, logistics and bus operators and municipal utilities as a partner of the real estate industry.