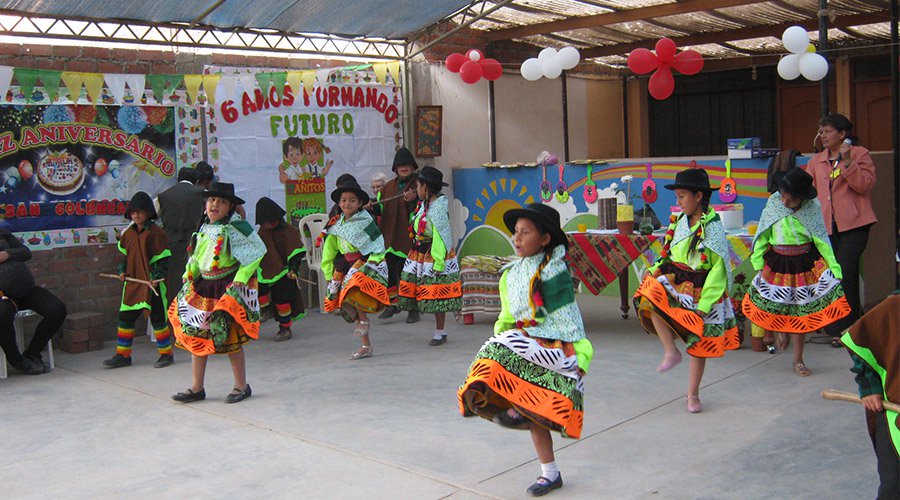 This past December, each customer purchasing one of our charging stations, took part in a small Christmas miracle: We donated ten Euro of the purchase price of each device to Jayma Kunan e.V., a non-profit organisation supporting educational projects locally in Peru. The team at The Mobility House liked this idea so much that everyone here came up with additional ways to increase the donation amount, so that in the end we collected EUR 5,500 for the people of Huaycán.
Like in so many regions of the world, running water, a roof over the classroom and sufficient text books are not a given for schools in rural Peru. They are more often than not underfunded by the local communities and the big name aid organisations have no idea they exist. This is where Jayma Kunan e.V. comes into play. The organisation supports small-scale projects in those forgotten areas to help modernise schools and daycare centres. These projects may be small in the scale of things, but they mean everything for the people locally. The general idea is to offer children a safe place to learn and grow.
What exactly is Jayma Kunan?
In the language of the Incas, "jayma kunan" means something like "let's help together now". It became the motto of a non-profit organisation founded in December 2012. Jayma Kunan co-founders Sven Petrich and Daniel Heydenreich, who, at the time, both worked at The Mobility House, had previously been involved in various social projects, for which they collected and forwarded school furniture and medical devices. "Our activities have shown that even the smallest amount, the most modest gesture can contribute towards something really great and worthwhile. Exactly that is what Jayma Kunan stands for", explains Daniel Heydenreich, now Managing Director at The Mobility House.
They already have their sights set on the next project: an afternoon school in Huaycán. In addition to many other details, the organisation will create a suitable school room, provide learning materials and ensure that each child receives an age-appropriate meal. The framework conditions for the project will be finalised over the course of the next few weeks, and will be realised in 2019 with the help of local teams of workers and helpers. The entire project relies solely on donations. We are proud and very happy to contribute to the project with the money collected at The Mobility House!