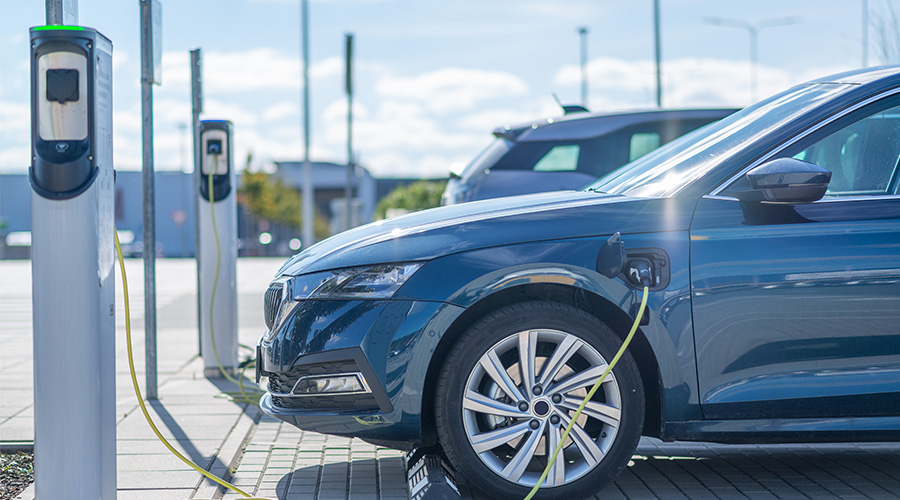 Electric mobility is booming – many companies have moved beyond the test stage with individual electric vehicles and are now proceeding to switch their vehicle fleets to electric cars in a structured manner. But there's more to this than just updating the motor pool. Utility-scale charging infrastructure needs to be set up on the company sites too. The specialists at The Mobility House explain in two blog posts the key things to consider and how to avoid pitfalls and bad investments. Part 1 dealt with all the planning-related topics. Part 2 presents the top five insights for setting up charging infrastructure.
6. Hardware / interfaces
Standard charging stations supply alternating current (AC) with up to 22 kW, while fast charging stations provide direct current (DC) from 50 kW. For technical reasons, DC stations always have an attached cable (CCS standard). AC stations, meanwhile, also come with a (Type 2) socket. A display may be provided, too, to improve usability. But what's even more important is a network connection that enables control or central monitoring of all connected stations. Another decision that needs to be made is whether meters in accordance with calibration laws are required.
There is now a very large range of charging stations on offer – making it all the more important to keep established standards in mind when selecting your solution, because proprietary products from individual manufacturers can quickly lead to a dead end. The OCPP 1.6 interface (including all functionalities according to the Open Charge Alliance; OCPP 2.01 in the future) ensures the likes of the charging stations' controllability to enable load management (which is also a prerequisite for the €900 KfW 441 grant for companies and other subsidies).
Charging stations' data connection to a local load management system and, if necessary, to a CPO backend is usually established over Ethernet. If direct integration into the company network is not an option, the charging infrastructure can be integrated into an existing guest LAN, for example. A connection over LTE mobile communications has also proved successful. A WLAN connection is not recommended within company environments since it is less stable.
7. Mains connection / load peaks
Whether the existing mains connection at the company site needs to be extended depends on the energy demand or the demand profile, the available power reserve and the required charging power. In any case, charging and energy management helps to make optimum use of the available mains power and avoid expensive peak loads. A dynamic charging and energy management system integrated into the existing mains connection's main distribution board, and thus also including the building load in the smart control, is recommended. If a direct connection is not an option – for instance, because the company's parking lot is further away from the existing connection – a separate connection can also be laid and the power controlled independently of the building load.
Smart charging and energy management does more than just enable optimum utilization of the available power (and, in most cases, prevent costly expansion of the mains connection). It also cuts electricity costs during ongoing operation by avoiding peak loads (peak shaving). Compared to the charging infrastructure being operated in an uncontrolled manner, between 30 and 70% of electricity costs can be saved in this way. In the interest of operational safety, common standards / guidelines (such as VDI 2166) specify a local solution.
8. Monitoring
As was already recommended in connection with load management (Part 1), all the charging stations should have an OCPP 1.6 interface, because they can be connected to an OCPP-capable backend that allows central monitoring of the installation. The status of all the charging points (such as charging, available, etc.) at the various sites can be viewed at any time there. It is important that the following basic functions are also covered:
Starting and stopping charging operations
Restarting charging points if errors occur
Displaying error messages, including further information for charging station troubleshooting operations
Reporting options that are often essential for sustainability metrics
Observing the load, so plans to expand the charging park can be made if necessary
Additional advantages of a monitoring system include the resulting analysis options. For example, information about the individual charging processes is recorded with regard to the RFID card used, the charging duration (incl. start and stop time), the amount of energy charged in kWh, and the costs incurred as a result. It also provides insights into the charging profiles of the completed charging processes, not to mention cross-site statistics with respect to the charged vehicles' energy consumption and the resulting load peaks. The monitoring system can also be used to create and manage RFID cards for accessing the charging stations at various sites.
So all the functions are easily accessible, and a rapid response is possible if errors occur. For larger charging parks, it might make sense to bring an external, 24/7 remote maintenance service provider on board. Preventive charging infrastructure maintenance is also important. For example, the regulations set out by the German Social Accident Insurance (DGUV) stipulate that a specialist company must conduct an annual mandatory inspection. In addition to function control, a charging station backend offers other options too – such as billing.
9. Billing
To cope with the rapidly growing number of electric vehicle registrations and the associated power consumption, or to counter objections from the works council, billing is a sought-after application for many companies. And this is precisely why a billing solution opens up brand-new possibilities. In addition to access control and data recording of charging processes, a core task is processing payment flows. The topic of data collection also becomes particularly relevant when the likes of third parties (guests, suppliers, etc.) can charge their vehicles in the company parking lot for a fee, and when employees 'refuel' their company vehicle at home or use their private vehicle for business trips. Services offered on the market vary a great deal. The "all-round carefree variant" offers fully automated cash management. In this situation, the company doesn't have to contend with invoicing or the risk of default.
If there are plans to bill for the charging current at the company site, the charging points must have a meter that is in accordance with calibration laws. While corresponding stations are somewhat more expensive, they offer greater flexibility of use and future compatibility. A charging infrastructure that is in accordance with calibration laws is also a must-have for the charging current rebate from the GHG reduction quota.
If kWh-accurate billing is not required today and will not be needed in the future either, more affordable MID-compliant meters will be adequate. In this case, employees can pay for the charging current – if they are not charging their vehicles for free anyway – through a flat-rate usage fee. Incidentally, by 2030 companies will be allowed to "give away" charging current to their employees without having to pay tax on it as a non-cash benefit. Conversely, companies also make savings by not using charging stations that are in accordance with calibration laws.
For more information read our blog article on calibration laws.
10. Integrating photovoltaics / stationary storage units
As part of the fleet electrification process, it may be worth considering generating your own electricity from renewable sources – by adding the likes of a solar canopy to the company parking lot. Existing photovoltaic installations, combined heat and power plants or stationary storage units can also be used as generators for an additional charging energy reserve on site. That way, solar surpluses can be put to optimum use.
Integrating the charging processes also makes it possible to increase the share of self-consumption in proprietary electricity production. In addition, since January 1, 2021, the EEG levy has been waived for PV installations with an output of up to 30 kWp and a self-consumption volume of up to 30 MWh/a, making levy-free electricity production possible in this context.
Summary: The right time for electrification is now!
The transition to electric mobility is in full swing and is being driven by legal frameworks and attractive funding conditions. The Corporate Sustainability Reporting Directive (CSRD), which will require companies to report their CO2 targets from 2023 onwards, is speeding up this development even further. So now is the opportune moment for companies to get to grips with installing on-site charging infrastructure and ensuring that their vehicle fleets are electrified. Since implementation periods last six to nine months, getting off to an early start is a must. With project experience acquired from electrifying over 1,000 sites, and with ChargePilot, our Charging and Energy Management system, we have established The Mobility House as a leading company in the field of charging infrastructure and would be delighted to assist you with any technical and regulatory issues you might have.
For more projects visit our references page.