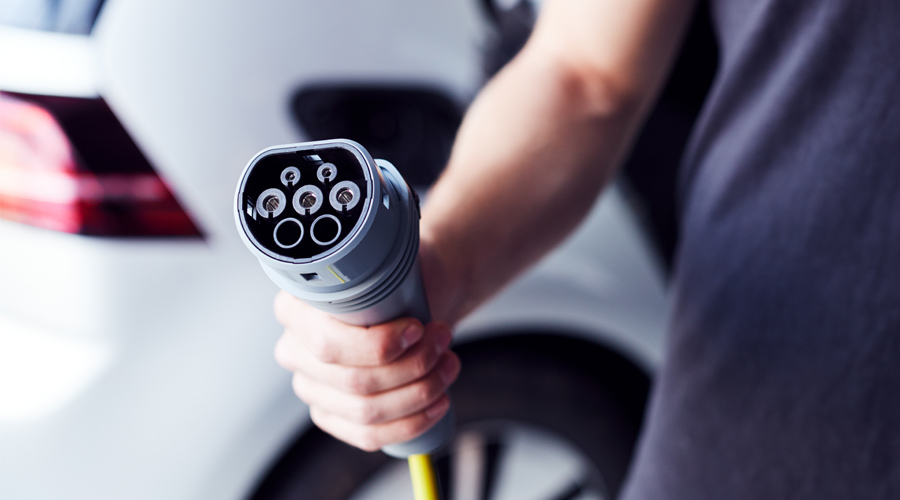 Munich, November 19th, 2019
There could hardly be a better time to switch to electric cars, especially for company car owners, craftspeople or local authorities. Manufacturers are offering an increasing variety of models at ever-lower prices. At the same time, the German government is continuously introducing new laws and regulations for a diverse range of incentives that make electric cars increasingly attractive in comparison to petrol and diesel models.
At the beginning of November, for example, the government decided to increase the so-called Umweltbonus, or "environmental bonus", a subsidy for electric cars that are priced at under €40,000 — from €4,000 to €6,000. For e-vehicles with a list price between €40,000 and €65,000, the subsidy increases to €5,000.
Plug-in hybrids also benefit from the environmental bonus as it increases from €3,000 to €4,500 in the price class under €40,000; more expensive models will receive a €4,000 subsidy in future. However, a plug-in hybrid must emit less than 50g of CO2 per kilometre in order to be included in the list of subsidised cars (German version). The increased subsidies should be paid out by the end of 2025.
Electric company cars are twice as attractive
Electrified company cars benefit from an additional incentive on top of the environmental bonus. Since the beginning of 2019, the tax rate for the non-cash benefit for private use of a company car was reduced to only 0.5 percent, whereas the tax rate for petrol and diesel vehicles will stay at 1 percent of the gross list price per month. In fact, for all-electric cars that cost less than €40,000, the company car tax will be reduced to 0.25 percent as of 2020.
In most cases, this change will result in a clear tax advantage in comparison to similar cars with combustion engines. The 0.5 percent taxation, however, will only apply to plug-in hybrids that emit less than 50g of CO2 per kilometre or which can drive a minimum of 60 kilometres using only battery power. The minimum is scheduled to be increased to 80 kilometres as of 2025.
For you as a driver, the tax benefit will amount to a significant saving of at least a three-digit sum each year. And for inexpensive electric cars costing under €40,000, the savings will be significantly higher. In fact, an electric car would have to be twice as expensive as a combustion vehicle to cause the same tax burden. The extra cost for fully electric cars is still a four-digit sum in most model segments. Plug-in hybrids from some manufacturers can even be in the same price class as comparable diesel models. Since company cars account for about two thirds of all newly registered vehicles, the new measure has the potential to make electric cars a much more attractive prospect — and to create a substantial used car market within a few years. Many experts consider this tax incentive to be even more significant than the environmental bonus in promoting the success of electric mobility.
The purchase price alone is no longer an obstacle
In a nutshell, purchase price alone is becoming a less significant factor when it comes to lowering the barriers to purhasing an electric car. If you're still hesitating, though, consider the other benefits of e-mobility: Electric cars are exempt from German motor vehicle tax for ten years. Electric cars also have a clear advantage over combustion engines in terms of their ongoing cost for fuel, maintenance and repairs; they give rise to far fewer costs over their entire service life than their petrol and diesel counterparts. Oil change? Not necessary. Brake wear? Hardly any — electric motors recover during deceleration and can bring the car to a standstill without the need to even step on the brake pedal. And you won't find wear-susceptible parts such as gearboxes, alternators, timing belts or fan belts in an electric car, either. In terms of costs over their entire service life (total cost of ownership – TCO), some electric cars are already performing better than their combustion counterparts.
Subsidy database for a comprehensive overview
If you would like to take advantage of an incentive for purchasing one or more electric cars or for setting up charging infrastructure, you can benefit from many different programmes from the German government, states and communities. These are available for both private and business customers and can range from a few hundred euros for a wallbox to tens of thousands of euros for electric utility vehicles and buses or larger charging infrastructure projects. In the comprehensive, independent incentives database from The Mobility House (German version), you will find an overview of all relevant incentives based on your place of residence.
Where can I charge my electric car?
With government incentives and the help of the automotive industry, the energy sector and service station operators, the number of public charging stations should rise from the current 21,000 to one million by 2030. This has also been decided in early November. The German government has set an intermediate goal of 50,000 charging stations by 2022.
Furthermore, there are also additional beneficial regulations for anyone who has the chance to charge an electric car — their own or a company car — at work. The electricity drawn from work is exempt from taxation as a non-cash benefit. This also applies to a wallbox installed in an employee's home, if it is supplied by the employer to allow charging at home. The electricity costs for charging at home can be compensated in the form of a monthly flat rate: If the employee has the additional opportunity to charge at work, this flat rate amounts to €20 for an exclusively battery-powered electric car or €10 for a plug-in hybrid car. Without the ability to charge at work, it is €50 for an electric car and €25 for a plug-in hybrid.
Legislative authorities are also planning new regulations to increase the number of charging stations in the private sphere. Changes in tenancy and residential property law, for example, should make it significantly easier to install a wallbox in residential apartment blocks. Additional measures are to be presented in the spring of 2020.
Subsequently, the gaps in charging infrastructure are also becoming smaller and smaller each day. In both urban and rural areas, there are now literally dozens of companies installing new charging stations, including an increasing number on motorways. A consortium involving the largest German car manufacturers, together with many other partners, is currently developing an extensive network of ultra-fast charging stations along trunk roads. At such charging points, electricity is fed rapidly into electric car batteries at up to 350 kW. That allows your car to charge with enough energy for the next 300 to 400 kilometres in as little as 20 minutes — the perfect time to take a short break for a cup of coffee and to stretch your legs. This means that it is becoming more practical to undertake long-haul trips in an electric car. It's worth remembering that some models already on the market can achieve ranges of 400 to 500 kilometres without needing to recharge.
How can I charge at my workplace?
It's not rocket science to install charging facilities on company premises or at employees' homes; the job can be done by any qualified electrician. But if you are planning a larger array of charging stations, then it's worth looking for the support of such experienced companies as The Mobility House, which will ensure that your charging system is future-proof and scalable. Annual service charges and the cost of improving mains connections are factors that should be considered when installing several charging stations at a time. Careful planning as well as smart charging and energy management systems help to avoid or minimise these costs.
With the help of the "Professional Concept" plan from The Mobility House, it won't take you long to find the right charging solution for your requirements – whatever car manufacturer you have chosen. You will also be shown how to charge your electric vehicles with maximum reliability and cost-effectiveness. The company's experts are also available to provide comprehensive, unbiased help with questions on billing, taxes and any other e-mobility or electrification topics.
Show off your sustainability
Apart from their cost advantages, electric cars provide added value to a fleet in another way that should not be underestimated: When you take a responsible approach to transport, focusing more closely on the environmental friendliness of your fleet, your company scores massively in terms of its public image in the increasingly important arena of sustainability and environmental protection. Your image will benefit greatly from your decision, particularly against the background of the recent diesel scandal and the looming threat of climate change.
Are you interested in switching your company fleet over to electric vehicles? We'll be there to help you every step of the way.