Project facts
Charging stations:
53 AC and 2 DC wallboxes
Services by The Mobility House:
Concept | Charging Infrastructure | Project Management | Operation
Period of time:
5-6 months
Savings:
Grid expansion: up to €50,000/location
Operation: up to €20,000/year and location
Equipping 16 car dealerships with smart charging infrastructure presents a number of challenges. The Rosier car dealership group had electrified 16 of their locations within a few months, allowing them to quickly and reliably charge not only vehicles belonging to customers and employees, but also test and delivery vehicles. They were searching for an economical solution that would reconcile the needs of the various brands of cars with the conditions at the location (e.g. the low capacity of the grid connection).
Solutions by The Mobility House
ChargePilot, the charging and energy management system, is a perfect match for the Rosier car dealership chain application:
Transparent: Monitoring gives a clear overview of all charging stations at all locations and allows the creation of statistics from within a single system.
Scalable: In later stages of development, additional charging stations from different manufacturers can be incorporated into the system
Economical: The load management module prevents expensive peak loads and avoids or reduces the need for grid expansion. This keeps the investment
Modular: The system can be expanded at ay time to include additional modules such as invoicing, fleet management or energy management
At many locations, the network environment would have quickly reached its limits at first glance due to the additional load caused by the charging stations without any load management. However, The Mobility House's analysis showed that intelligent charging and energy management with ChargePilot could easily meet the requirements specified by car manufacturers until least until 2025.
The vendor-neutral software and hardware ChargePilot is already set for the breakthrough of electric mobility and can be extended almost infinitely.
Veronika Brandmeier, project manager at The Mobility House, comments: "We advise our customers to plan areas for the electric car shop on the company premises for which the empty piping and sub-distribution are already prepared today. This significantly minimizes the follow-up costs for future extensions."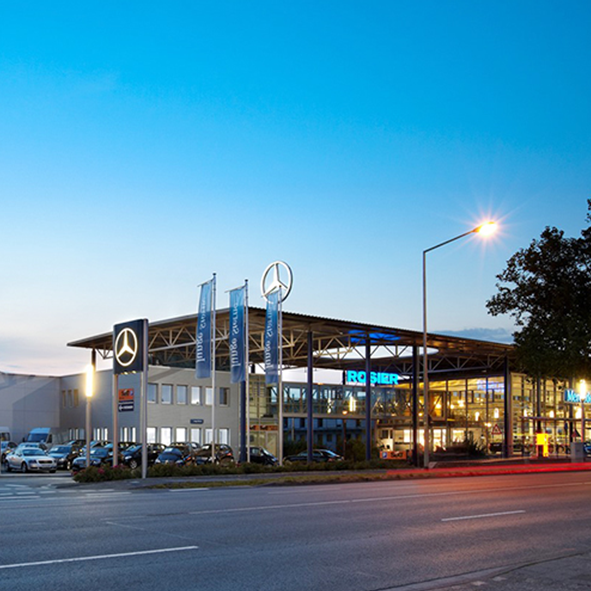 We're very happy with the results of both the advice and the concept they designed. The suggestions regarding voltage peaks, energy management and charging cycles during the charging process were particularly helpful to our decision - making processes. We had simply never thought of some of the issues that were raised!
Hendrik Rosier - Divisional Head of Logistics & Purchasing Manager