Charging solutions for electric fleets
Intelligent and cost-optimised charging for your vehicles.
Electrify your fleet! Let us show you exactly why it's important and find the right solution for you.
Mobility is undergoing rapid change, as are the requirements of a modern fleet. Digital networking, sharing concepts and automation of processes are shaping fleet management today more than ever. The central issue is the demand for alternative fuels, with electric mobility dominating the outlook for the transport of tomorrow. Be an innovator and launch your electric future today! We will be there to help you with every step on your way.
The Mobility House charges your fleet intelligently and optimises your costs
No matter which or how many vehicles you have in your fleet, our charging and energy management makes charging your fleet child's play. With our intelligent software solution and charging infrastructure expertise, we optimise your operating costs and ensure that your electric fleet operation runs without a hitch. Come to us with your questions: We will support you in the development and implementation of your electric mobility concept.
Ask us today about tailored solutions for your fleet:
From pizza delivery to bus travel, from a customer visit to a taxi journey: we want to electrify as many routes as possible to counter climate change. Regardless of the context in which your fleet operates, we will support you in the development and implementation of your electric mobility concept. With our charging infrastructure expertise and smart charging, we optimise your operating costs and ensure that your electric fleet operation runs without a hitch.
What do you need to remember about the electrification of your fleet?
Several points should be addressed when changing fleets over to electric vehicles. We have the ideal solution for every scenario, right here. When electrifying fleets, the following points need to be considered:
Charging infrastructure
The right hardware depends on the type, number, use and charging power of your vehicles. Our shop offers an appropriate selection of charging stations.
Load balancing
With load balancing you can avoid cost-intensive expansion of the grid connection and reduce demand charges.
Tariff
It may be beneficial to change the electricity tariff to realise more potential savings in some cases.
Service
Regular maintenance and updates guarantee optimal functionality of your fleet's charging infrastructure.
Energy solutions
It's possible to integrate stationary energy storage or solar systems, for example.
Billing service
Our three different billing services take care of any billing work for your charging station.
Legal
We look to support you on issues surrounding the legal frameworks, e.g. regarding the installation of charging stations in rented buildings.
Our services for your fleet
From design to implementation and finally to operation, The Mobility House are the right experts to support your project every step of the way.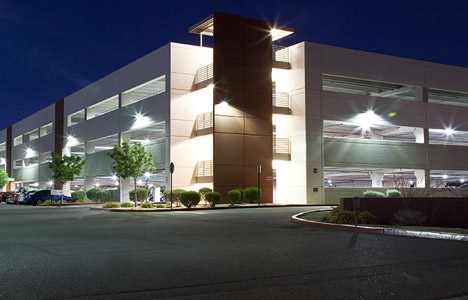 Analysis of a Commercial Headquarters with More Than 2,000 Charging Opportunities for a German Corporation
""Thanks to analysis and management from The Mobility House, we've been able to reduce the costs for operating the charging infrastructure by 30 percent."
– Facility Management
A German corporation is currently planning a new office complex where an urban workplace culture meets high tech. For construction of the complex's own car park, we developed a future-proof solution to equip more than 2,000 parking spaces to allow electric cars to be charged by employees and visitors. Through comprehensive planning and review of different scenarios, we were able to significantly reduce demand charges as well as the connection capacity. The results are clear to see. Using our solution, the Group was able to save a seven-figure investment and more than € 800,000 each year on operating charging infrastructure.
Articles other users find helpful