Hey utilities, are you excited/nervous about the EV revolution?
Either way, you are not alone. During a recent webinar I did on the topic of automated load management (ALM) technology, 72% of respondents to an in-webinar poll indicated that grid capacity constraints are impacting their EV energization timelines, while only 35% of respondents indicated they have an EV make-ready program in-place in their territory, and 30% responded that they currently have very few EVs in their territory at all. This is of course a self-selected audience of utilities looking for grid constraint solutions, but these and other results made clear that transportation electrification is happening across the country, it is accelerating, and even utilities who are not yet experiencing challenges understand the need to plan ahead and set themselves up for success.
Adopting new solutions
Two primary reasons utilities are encountering delays when working to energize new sites are:
Persistent constraints on grid component supply chains: Shortages for switchgear, transformers, raw materials for lines, and other components became apparent during the pandemic, and production continues to fall behind demand as electrification accelerates and energization requests multiply.
Timeframe mismatches between the pace of EVSE installation and the time needed to upgrade feeders, transformers, and substations: Historically, a multi-MW capacity request usually corresponded to a major construction project that would take years to build, with completion timeframes roughly synchronized with multi-year infrastructure upgrade processes. Utilities are now being asked to provide upgraded service to multi-MW EV charging projects that can be completed in months.
Transportation electrification, particularly Medium- and Heavy-duty EV fleets will have an outsized and uneven impact on distribution infrastructure requiring potentially hundreds of billions of dollars in upgrades over the next decade. The opportunity and the challenge facing distribution utilities to keep pace with this rollout is unprecedented. To meet this moment, utilities will need to adopt new technical solutions along with new planning methods to match the pace of the EV revolution. They will need to reconsider the grid planning process, how load is assessed, and what "serving a customer" means.
This brings us back to automated load management. It is both a tool in the utilities' toolbox and a way of thinking about loads and resources, and it has the potential to both give utilities breathing room in the face of unprecedented energization requests.
"Automated load management (ALM) systems manage charging load with the objective of reducing or eliminating the need for electrical capacity upgrades on the utility or customer side of the meter or both."
California Public Utilities Commission,
November 2022, Rulemaking 18-12-006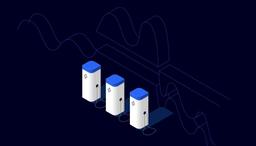 What is ALM?
But what is it, really? As The Mobility House implements it, ALM is a software system with a controller physically onsite. The system coordinates and prioritizes the charging behavior of multiple EVSEs with total nameplate capacity exceeding the site's connection size, meeting the fleet's mobility needs while keeping aggregate usage at safe levels and thereby avoiding upgrades.
It is important to emphasize that The Mobility House's implementation of automated load management (ALM) does not exclude or circumvent utilities. This technology is employed to best advantage when the utility is collaborating with the customer to best serve their needs. For some sites, particularly those that host EV fleets on regular schedules, ALM can help utilities re-establish order and planning into what is a currently a somewhat chaotic stream of unpredictable energization requests. It may allow you to serve customers whose requests are otherwise prohibitively expensive or projects that are on impractical timelines to receive infrastructure upgrades. It can allow utilities to work with customers to set up a phased electrification approach that balances their fleet plans and your upgrade capabilities. It can allow you to safely make best use of existing infrastructure by raising average utilization while respecting magnetic and thermal limits. It can allow you to say "yes" when the answer previously would have been "no" (or, "yes, but it will cost 8 figures and take five years").
An inefficient way to help a customer dealing with grid constraints could be the following:
The customer sends a load letter and energization request,
The utility studies the local distribution infrastructure, finds a prohibitively expensive or lengthy upgrade requirement, and informs the customer,
The customer talks to The Mobility House, who simulates the customer's fleet usage and discovers their mobility needs can be met with a fraction of the originally requested capacity with the use of ALM,
The customer and TMH come back to the utility with a flexibility proposal and begin a discussion about what is possible.
A new way to think about this process would be for utilities to start conceptually moving away from the "Yes/No" binary to a "Conditional Yes" or "Yes, if..."
How best to do this? One good experience we recently had was with a utility who simply told us upfront what we had to work with. They said, "you will need to keep EV load at this site under 80kW." We then simulated the fleet's daily activity and determined what portion of the fleet we could accommodate within the utility's available capacity. Importantly, we were able to help the customer determine that they could install fourteen chargers (19.2kW each), with an ALM set point below 80kW, without detrimentally affecting fleet operations. We then made a two-phase plan with the utility and the customer to squeeze that portion of their fleet into the suggested capacity, and to electrify the second phase of the fleet once the utility completes needed upgrades.
Collaboration
This collaborative approach met everyone's needs and allowed Phase 1 electrification to proceed while the utility did its work to enable Phase 2.
We have found that ALM can provide a time-efficient and cost-effective path forward by making the fullest and best use of existing infrastructure until upgrades can be delivered - if they are needed at all. We believe that everyone should know about it, so we published a guide. For more information on how ALM can factor into fleet electrification planning, please see our recently published ALM Technical Guide. If you have in-depth questions, please reach out and we will be happy to talk.