Load balancing means you can install multiple charging stations for electric vehicles with an unchanged connection capacity. In this process, the charging power is distributed equally across all electric vehicles to be charged. Load balancing means you can avoid cost-intensive, one-off increases in connection capacity and prevent peak loads that result in higher demand charges.
Load management providers compared
KEBA
Alfen
The Mobility House
Master/ Slave
Smart Charging Network (SCN)
ChargePilot Charging & Energy Management
ensures that all electric vehicles are reliably charged within the maximum available power of the grid connection
✔︎
✔︎
✔︎
takes the current site load into account and makes optimum use of the grid connection
✔︎
✔︎
✔︎
detects the actual charging power of electric vehicles incl. the asymmetrical phase load due to single-phase and two-phase EVs and makes best use of the total power
✔︎
✔︎
distributes the available charging power across all connected electric vehicles
evenly
evenly
individually, evenly, based on timetables
gives priority to individual charging stations or RFID cards
✔︎
✔︎
offers different interfaces to other systems (e.g. billing software, SAP, network operators)
✔︎
(✔︎)
✔︎
sends alert messages in the event of faults in the charging station
✔︎
continues to charge electric vehicles locally even when the internet connection is interrupted
✔︎
✔︎
✔︎
transfers data securely via SSL/TLS encryption
?
✔︎
displays charging processes, fault events, statistics in the TMH Backend
with ICU Connect
✔︎
is compatible with different charging stations from various manufacturers
✔︎

---

max. number of charging stations
16
100
unlimited
that is what you need

1x KEBA KeContact P30 x-series
at least 1x KEBA KeContact P30 c-series

ICU Eve, Eve Mini or lolo
Switch

Charging stations
TMH Smart Charging Controller
Switch

Show product
Contact us
That's how you benefit from the right load management
Our success stories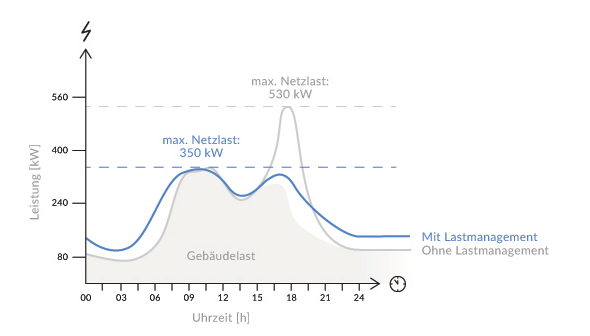 Industrial enterprise with an electric fleet
An industrial enterprise purchased 15 electric cars for its service employees, which are only used during the day. It wants to install 15 charging stations with 22 kW charging power.
If charging without load balancing, the enterprise would need to expand the grid connection by 180 kW. This would lead to infrastructure costs of approx. € 32,000 that the interconnecting utility will claim. The higher connection capacity means that the demand charges can also increase by up to € 15,000 per year.
The fact that the charging stations are constantly balanced to the building's power requirement by our dynamic load balancing ensures that the additional charging processes do not cause the available connection capacity to be exceeded. We can therefore save you additional grid expansion and operating costs.
Fleet operation is not restricted by slower charging processes, as the electric vehicles only reach the company site in the afternoon and can be conveniently charged overnight.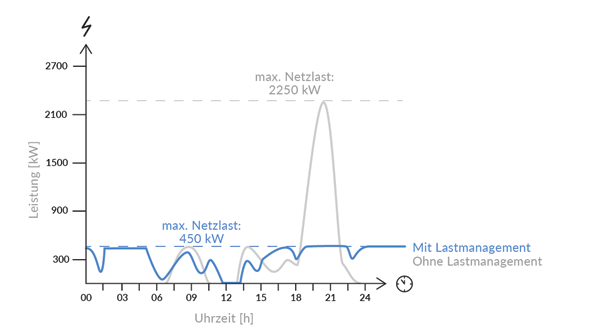 Public transport with electric bus fleets
A bus operator wants to replace 24 of his buses with electric buses and to build the necessary charging infrastructure. These e-buses charge with up to 150 kW of power. The grid connection needs to be expanded, the size can be reduced with prioritised load balancing, and the design can therefore be made more cost-efficient.
In doing so, the grid expansion can be reduced from 2.3 MW to 500 kW, and the related costs reduced by €320,000. The operator also saves around €140,000 per year with regard to demand charge costs.
Prioritised load balancing charges electric buses depending on their schedules, and ensures that they are fully charged at the next scheduled departure time. The charging processes of the various vehicles are spread over the entire day and not carried out at peak times.
This allows low power to be drawn from the grid throughout the day, rather than creating peak loads. In turn, this creates cost savings in grid expansion and demand charges.