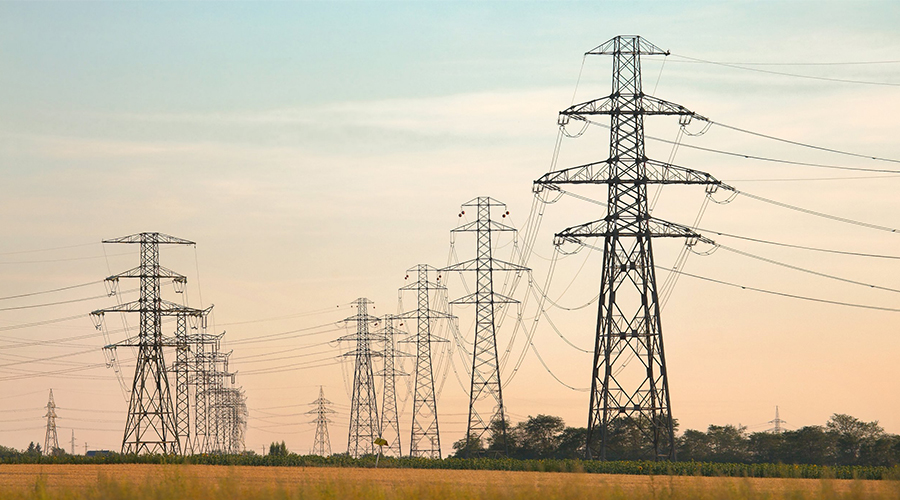 We are about to witness a radical transformation in the energy and automobile sectors that will help drastically reduce CO2 emissions in the transport sector, a true win-win situation for everyone involved: energy providers, grid operators, car manufacturers, energy providers and end customers.
Thanks to electric mobility, cars can become an active element of the power grid. This is a clever and cost-effective way to integrate renewable energy such as solar power and wind power into the grid, as well as to smooth out peak loads. Since private cars are just sitting there for 23 hours a day on average, barely driving more than 40 kilometres, battery-powered cars are ideal for use as electricity caches. To accomplish this, electric cars need to operate using Vehicle-to-Grid technology (V2G): in other words, they need to be able to both take in and give off electricity. Specialists refer to this as bidirectional charging.
This new future for the energy world might seem a long way off, since appropriate vehicles and products are not yet widely available on the German market. But the energy provider The Mobility House (TMH) from Munich has taken the first steps and has conducted many pilot projects proving that V2G offers economic and practical advantages to everyone involved: Energy providers benefit because they can sell more renewable energy; network operators benefit because they are spared expensive network expansions; and end customers benefit because they can earn money with their electric cars while they are parked—in fact, it is possible to earn several hundred euros per year.
Car owners don't need to worry about the batteries of their electric cars wearing down prematurely due to their side job as temporary power caches. Quite the opposite is the case: The research of TMH in collaboration with the Technical University of Munich has indicated that this uniform load distribution, which acts like a kind of battery massage, keeps the usable life of a battery stable and can even extend its life in particular circumstances.
Since 2012, TMH has been testing the technologies that will make V2G fit for everyday use. At first, the focus was on optimising the charging process for electric cars and benefiting from price fluctuations on the electricity market. In a pilot project with Renault, TMH developed smart charging software that takes energy from the grid when it is cheaper based on the driver's needs. This is certainly the case when a lot of extra alternative energy is available. On average, charging costs can be reduced 10 to 15 percent. Today, this smart charging process is a core component of the charging and energy software offered by TMH.
The next step was to find another way to get the power out of the car battery so it can be used in households. In 2015, TMH successfully integrated a Nissan electric car into the building's power grid at the company headquarters in Munich for the first time and used this car to supply power to the office. Since then, a whole lot of espressos have been powered directly by the electric car in the parking garage.
A similar project is currently underway at the research centre of the car manufacturer Honda in Offenbach, where TMH is testing bidirectional charging. Here, a system consisting of a V2G-enabled charging station, an electric vehicle and the building's power load is used to optimise energy consumption. This project aims to increase personal use of solar power and reduce energy costs.
In another project conducted throughout Germany with the network operator Tennet and the car manufacturer Nissan, electric car batteries are used to optimally feed renewable energy into the grid and to ensure that renewable energy is not deactivated due to network congestion problems between energy-rich northern Germany and the electricity-hungry south. Power demand is very high in the morning and evening, particularly in southern Germany. The construction of a north-south line is under consideration to balance out these peak loads and bring wind power, which is abundant in the north, down to the south.
A TMH project is currently investigating whether it makes more sense to rely on electric cars as power caches instead of spending billions of euros constructing costly new lines. During hours with a lower electricity demand, at night and in the early afternoon, these vehicles in the south could easily take in lots of wind power from the north and store it temporarily without burdening the existing lines to their limits. During peak load times in the morning, at around noon and in the evening, the electricity in their batteries would be used to cover the high demand directly where it is needed. This would require thousands of electric cars with suitable charging stations, but given the continually increasing numbers, it is only a matter of time before this proposal could become a reality.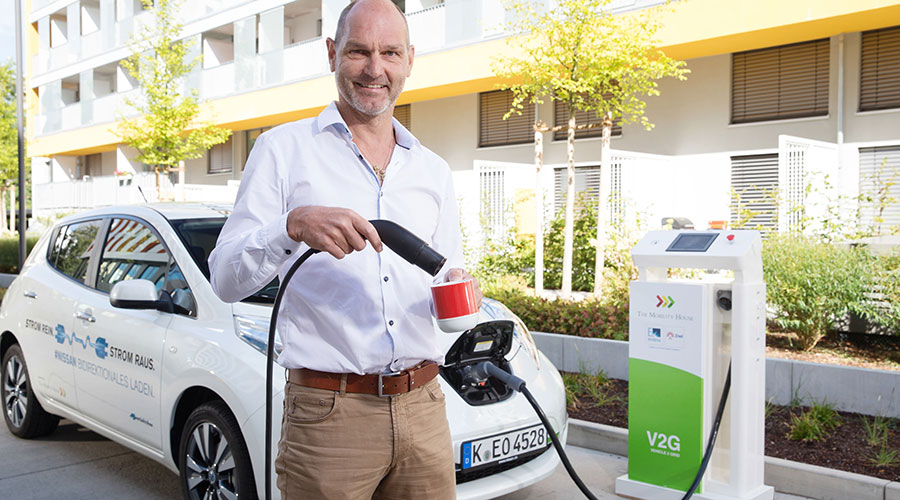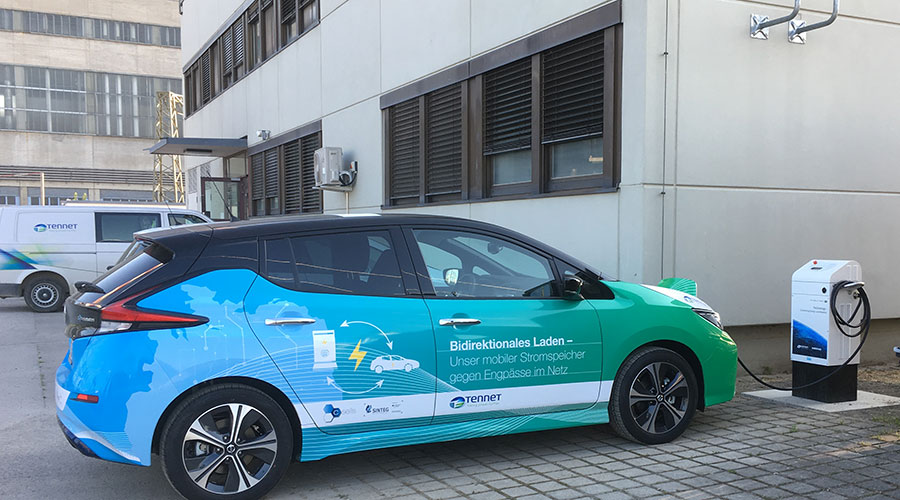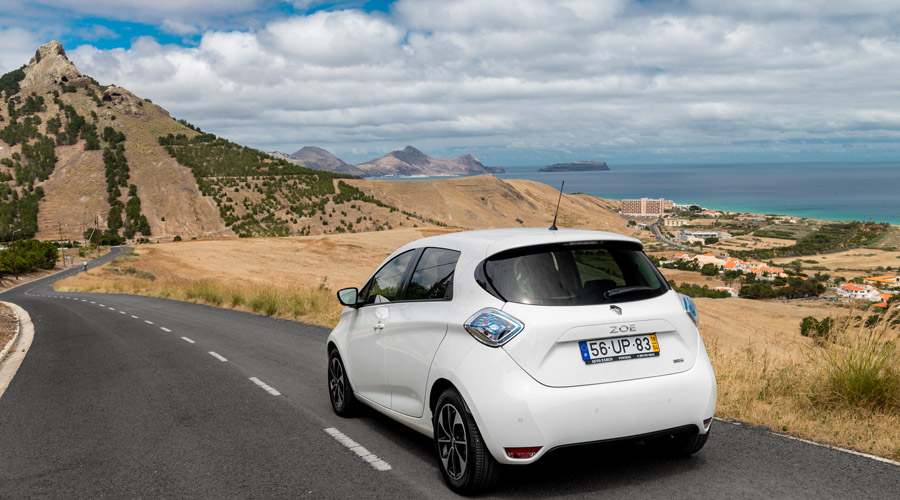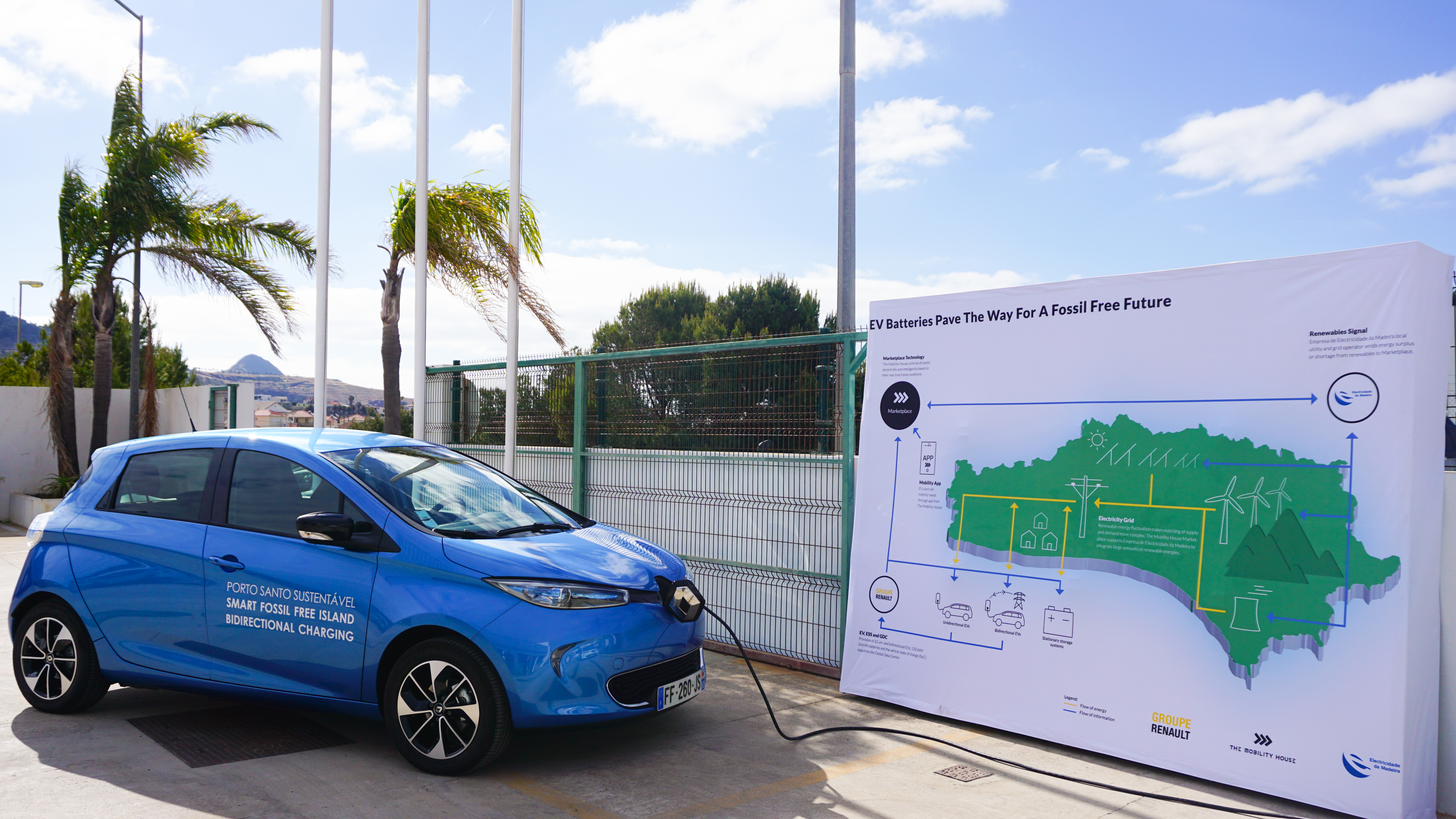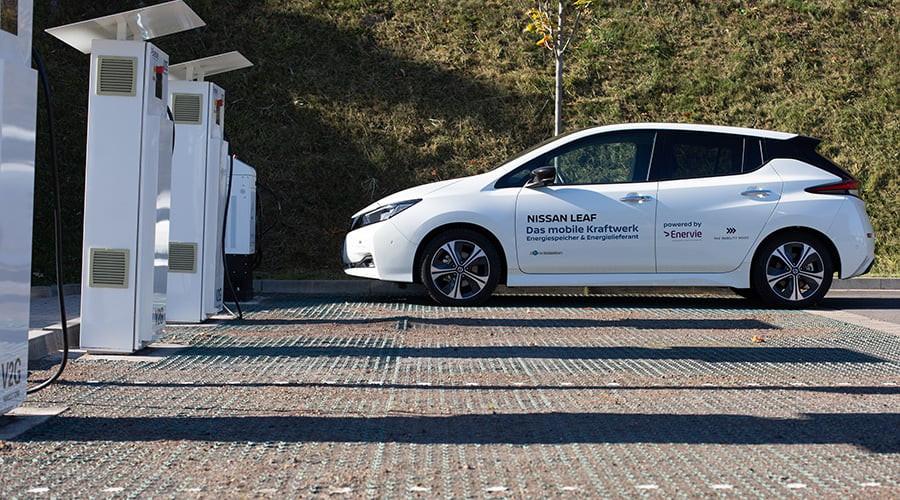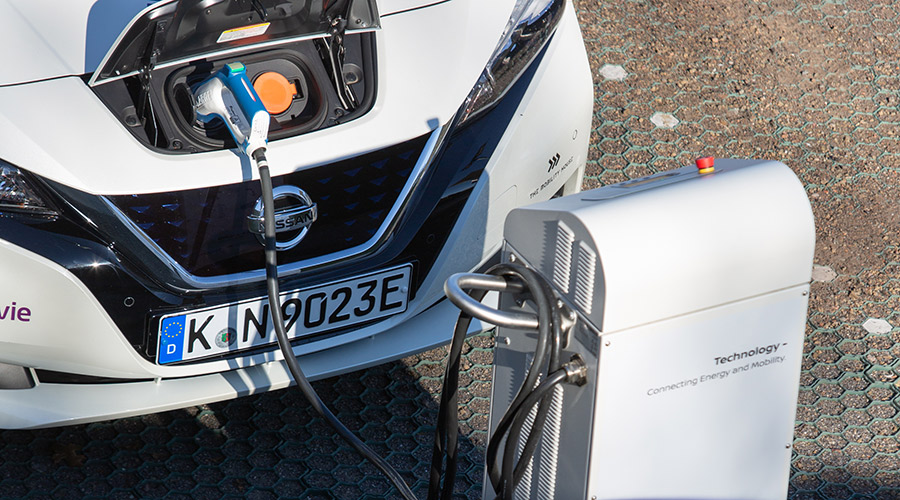 Out of all TMH's projects, the most technologically demanding application on the energy market is the project in Hagen where the company is using a V2G vehicle to stabilise primary control power in Germany for the first time ever: this is the ultimate challenge in grid network stabilisation.It requires reliably balancing power fluctuations in real time within a matter of seconds. In the past, this task has mostly been accomplished by gas turbine power plants or pumped-storage power plants. What sets this project apart is that electric autos can be used to earn cash through primary control power: Network operators bring in hundreds of millions of euros in revenue every year from network stabilisation. In Hagen, the electric car, a Nissan Leaf, has earned an average of 20 euros per week since October 2018. Calculated on a yearly basis, this results in 1000 euros and the realization that "simply standing around" can also be a worthwhile affair.
One of the most exciting V2G projects is currently taking place on the island of Porto Santo in the Portuguese archipelago of Madeira. In the middle of the Atlantic Ocean - where diesel generators have so far provided the required electricity - a largely energy self-sufficient and completely sustainable system is to be created. The first 22 Renault electric cars, two of them V2G-capable, are already in use to make the power grid of the island of 5,000 inhabitants independent of the expensive diesel supplies. TMH contributes the intelligent software, the so-called Marketplace, which optimizes the interaction between conventional electric cars, stationary second-life battery storage systems, bidirectional electric vehicles, wind and solar power systems and diesel generators. In this project, which is still unique worldwide, renewable energy producers are already contributing 15 percent to the island's electricity supply.
"In Porto Santo we can prove that a world without fossil fuels is possible. With our technology, electric vehicles not only ensure emission-free mobility, but also help to make the power grid more efficient, reliable and cost-effective," says Thomas Raffeiner, founder and CEO of TMH.
"By now, we have achieved nearly everything we set out to do", says Raffeiner. "We know how bidirectional charging works, we have the interfaces and the technology is ready. Now our job is to create the regulatory framework for end customer products." Customers should be excited: If electric cars will be available for the same prices as comparable petrol or diesel models in a few years, as many manufacturers have already announced, and it will also be possible to make money using a car as a power cache, driving cars will become a whole lot cheaper. Not to mention environmentally friendly.