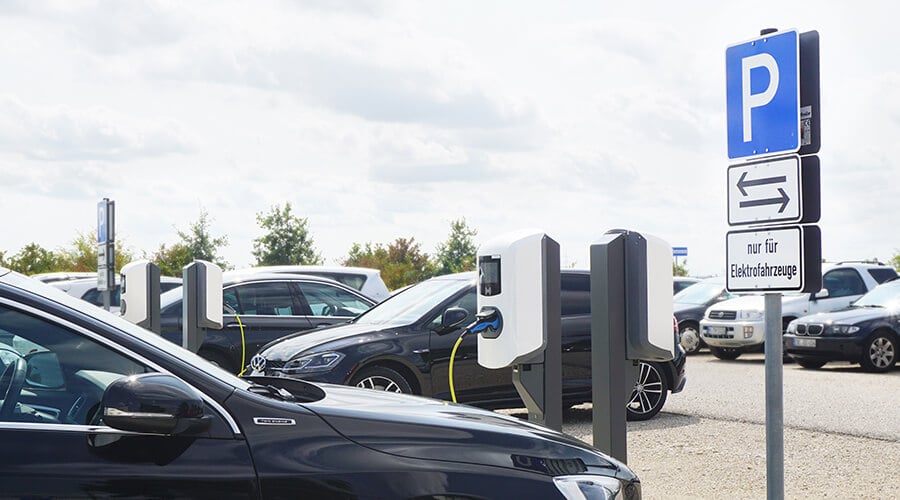 More and more people are now sure that their next car will be electric. The choice of vehicles is growing, ranges are meeting people's needs and there are also attractive subsidies to be had! But where to charge your electric car charge if you don't have the option of charging it at home? Employers such as the technology company Océ are contributing to the mobility revolution by providing charging solutions for their employees.

Take the cable out of the boot, plug the car into the charging station and off you go to your first meeting of the day. That's how employees at printer manufacturer Océ are now starting their working day. With the help of The Mobility House, Océ has equipped its car park at the Innovation & Technology Center in Poing near Munich for the electric future by installing ICU Eve charging stations with a charging capacity for up to twelve 22-kW electric cars. And that's just the beginning: twelve additional parking spaces have already been prepared for gradual expansion with further charging stations. Océ is sending a clear message with the new charging infrastructure: electric cars are welcome here!

"For us, electric cars are the future of mobility, and driving forward new technologies is what defines us as a company. The fact that our employees and customers can now charge their cars here makes us more flexible and motivates us to continue pursuing an electric future," says André Mittelsteiner, CEO of Océ.
The employees' electric cars are charged exclusively with green electricity. As a result, they can drive in and around Munich 100% emission-free. When it comes to the environment, Océ leads by example.
The Charging Solution: Expandable & Future-Proof
From the idea to the execution of the practical, everyday charging solution, The Mobility House played a defining role in the charging infrastructure at Océ from start to finish. All charging stations have been equipped with intelligent communication technology. When the charging park is expanded to 24 charging stations, a charging and energy management system could be integrated to intelligently distribute the load and make the best possible use of the total power on site, which is limited to 138 kW. Another useful feature: since charging is free for employees, a login function via RFID key prevents unauthorised users from stealing energy.

"Working with The Mobility House has really helped us to implement our project in a sustainable manner. In addition to vital experience, it has also given us productive solutions for our electrical roadmap", says Stefan Speer, Electrical Engineering Manager at Océ.
Bilder: © The Mobility House / Océ